With four well-defined seasons and over 300 days of sunshine a year, Klamath County has plenty of outdoor experiences for you to discover.
From fly fishing for giant native rainbows on the Williamson River, to kayaking and whitewater rafting to the Upper Klamath River to quiet canoeing on Klamath Lake at Rocky Point, the recreational op­portunities here are virtually endless. And you just might have the place to yourself.
Klamath Basin Cities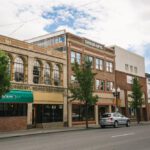 There's a lot to do in Klamath Falls, like scenic hiking and mountain biking, golfing at four famous courses, freshwater fishing and Oregon's longest zipline. There's also the oldest birding festival in the U.S. here, if with more than 350 bird species in one place.
Established in 1863, Fort Klamath now serves as the Klamath County Museum. Set on 8 acres, the museum's grounds include the graves of four members of the Modoc tribe. Aside from the rich history, Fort Klamath is known for its location along a scenic byway, proximity to Crater Lake National Park, and epic fly fishing, birding and kayaking.
Getting There
North - South
Klamath County lies along Highway 97 at the California – Oregon border, 2.5-hours north of Redding and 5-hours south of the Columbia River Gorge.
East - West
Klamath County is located between the Rogue Valley and Lake County, and Highway 140 provides easy travel from East to West across all three regions. The town of Klamath Falls serves as the halfway point between Medford and Lakeview, with it being about 2 hours in either direction.