The Travel Southern Oregon Board of Directors is a dedicated group of industry partners from lodging properties, attractions, regional DMOs and talented at-large professionals who guide the organization and support its strategic direction.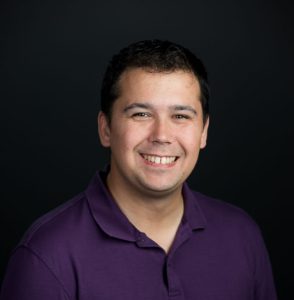 Allen Pike
President, Mereté Hotel Management Group
Allen is General Manager of the Hampton Inn & Suites Roseburg, Oregon.
He graduated from Crater High School in Central Point and the University of Oregon in Eugene. Allen started working with Mereté Hotel Management in 2002, working at Marriott properties in Springfield, Hillsboro, and Medford. After leaving for a short time and moving to Colorado, he came back to the company in 2013 and has been in Roseburg ever since, opening the Hampton Inn & Suites by Hilton in 2018.
In addition to serving on the board for Travel Southern Oregon, Allen also serves as Chairman of the Board of Directors for the Roseburg Area Chamber of Commerce. He sees the role of tourism in Southern Oregon as a vital to the future of the region and is committed to doing anything he can to help ensure as many people as possible come and experience this amazing place he calls home.
A native Southern Oregonian, Denise graduated from Hidden Valley High School and then from University of Oregon with a Bachelor of Science Degree in Accounting.
Denise has been a CPA for 8 years and is a consultant for local businesses and non-profits.
Outside the office Denise enjoys spending time with her family. Most weekends you can find them out exploring the great outdoors, golfing, fishing, hiking, crabbing, or just enjoying our beautiful area.
Denise is involved with the Travel Southern Oregon Board because she values the importance of having a burgeoning tourism economy in our area, and its positive impact on the community. She feels that we are lucky to have Travel Southern Oregon in our area to support and elevate all the aspects of tourism that our area provides.
In addition to serving on the board for Travel Southern Oregon, Allen also serves as Chairman of the Board of Directors for the Roseburg Area Chamber of Commerce. He sees the role of tourism in Southern Oregon as a vital to the future of the region and is committed to doing anything he can to help ensure as many people as possible come and experience this amazing place he calls home.
Tamara Bushnell
Secretary, Country House Inns
Tamara Bushnell was born and raised in Southern Oregon. She began, what would turn out to be a life-long career in hospitality, right out of high school into the restaurant industry before moving into hotel operations.
Tamara achieved her CHA certification in 2016 and is currently Vice President of Operations for CHI Hospitality Group, which operates seven Country House Inns properties in Southern Oregon and Santa Barbara, California.
She is an active member in the Grants Pass community, serving as a board member for Josephine County Visitors Association and Travel Southern Oregon, Grants Pass Tourism Committee, and is very involved in her local church.
Tamara and her husband David enjoy camping, hiking, music festivals, and finding great beer and wine. She is proud to live in Southern Oregon and loves sharing her knowledge of the area with others. She believes that she and her staff are ambassadors for the area. "If we can get a guest to change their travel plans, or stay another night to experience an extra day in Southern Oregon – that is a win!"
Katharine Cato
Past-President, Travel Ashland
Katharine grew up in New Hampshire with a love for the outdoors. After earning her Bachelor's degree at the University of NH, she moved to Oregon to ski the Pacific Northwest.
Her professional path has included sales, marketing, consulting and media relations with over 20 years in the tourism industry. She has been with the Ashland Chamber of Commerce, serving as the Director of Travel Ashland, the tourism branch of the organization, for 15 years. With tourism being a key economic driver to Ashland's economy, she has a true passion for promoting the spectrum of year-round offerings in Ashland and Southern Oregon. She currently serves as the Board President of Oregon Destination Association, past-President of Travel Southern Oregon and board member of Rogue Valley Vintners. She lives in Ashland with her husband, Ray and their daughter, Grace.
Terry Bentley
Bell Sister Flats
Terry Bentley, co-owner of Bell Sister Flats, luxurious historic lodging in the heart of downtown Roseburg, Oregon.
Terry and her husband Paul grew up in Roseburg, Oregon and both have a passion to revive downtown Roseburg like it was in their childhood. They opened Bell Sister Flats in August of 2018 on the second floor of their historic 1909 building, which hadn't been occupied since the 1950's. Both Terry and Paul love to travel in the U.S. and abroad. Terry was born in a small town in Happy Camp, California and is an enrolled tribal member of the Karuk Tribe of California. Her family moved to Roseburg, Oregon when she was a little girl. She moved out of Roseburg in 1991 and lived in Portland, Oregon for 10 years and eventually moved back to Roseburg to raise her family. She graduated from Douglas High School and has a Bachelor's of Science Degree in Business Administration from Eastern Oregon University. Terry is married and has grown children. She loves to travel, hike, bike, camp, read and spend time with family.
T.J. Holmes
Travel Medford
T.J. lived in the Applegate Valley as a child and returned to Southern Oregon in 2021 after spending most of his life in California.
He started working in destination marketing in 2017 for the DMO in Redding, CA before taking over as Senior Vice President of Travel Medford. Before moving to the region, T.J. earned a Bachelor's degree in journalism from Chico State University and was a national award-winning journalist, both for a daily newspaper and for an online news outlet he co-owned and operated with his wife and friend. T.J. values the role tourism plays in a thriving economy and is driven by the aphorism "a rising tide lifts all boats," believing effective communication, collaboration, and teamwork leads to a prosperous community. T.J. enjoys playing and watching sports and exploring the abundance of outdoor offerings in Southern Oregon with his wife and family.
Karolina Lavagnino
Neuman Hotel Group
Karolina is Director of Sales & Marketing at Neuman Hotel Group. and has been with the company since 2002 and in Oregon since 2000.
Born and raised in the Communist Poland, Karolina has always been into adventure and exploring the undiscovered. During her Master's Program in Cognitive Linguistics at the Nicolas Copernicus University in Torun Karolina received one year scholarship to Southern Oregon University. She immediately fell in love with Ashland and after graduation from Polish college she returned to Oregon to finish her undergrad and graduate degrees here. Her career in hospitality started at the front desk of Ashland Springs Hotel.
Ever since she became a manager she has been fully involved in the expansion of the company, from one hotel to five! Karolina is passionate about all things Oregon, including spectacular outdoors, locally sourced food, great beer and wine, and amazing people. In her spare time Karolina runs ultra-marathons, teaches kickboxing and travels with her husband and their toddler daughter.
Pavlina McGrady
Southern Oregon University
Pavlina McGrady is an assistant professor at the School of Business at Southern Oregon University, coordinating the Tourism Management concentration at the school and teaching tourism and sustainability courses.
Pavlina is originally from Sofia, Bulgaria but has been living in the United States since 2004. Pavlina earned her bachelor's degree in Tourism from University of National and World Economy in Sofia, followed by a Master's degree in Travel Industry Management from University of Hawaii at Manoa. After working in various management roles in the hotel industry for several years, she decided to shift her career and took the path towards academia and research by earning a Ph.D. in Human Dimensions of Natural Resources with a focus on corporate sustainability and sustainable tourism from Colorado State University.
Pavlina has been living in Ashland, OR, and teaching at Southern Oregon University since 2016. She enjoys all outdoor activities, spending time with her family and friends, and traveling.
Tori Middelstadt
Experience Grants Pass
Tori grew up in Fairbanks, Alaska loving the outdoors and wide open spaces. She has been working in the visitor industry since she was 16 in various positions ranging from a tour guide, front line customer service at top visitor attractions in Fairbanks, managing retail staff and now working on behalf of the destination.
Tori moved to Oregon in 2014 after completing her MBA in Business Management to complement her Bachelors degree in Photojournalism at the University of Alaska Fairbanks. In Oregon she gained destination experience in the Willamette Valley at both Travel Salem and working for the Willamette Valley Visitors Association. Tori has served on the Oregon Tour and Travel Alliance board of directors. You will likely run into Tori outside on beginner mountain bike trails, paddling or on hiking trails with her husband and dog.
Jennifer Roe
Crater Lake Ziplines & Roe Outfitters