We like Klamath Falls.
Maybe it's the nickname "Oregon's City of Sunshine" or its proximity to Crater Lake. Then again, there's a lot to do in Klamath Falls — like scenic hiking and mountain biking, golfing at four famous courses, freshwater fishing and Oregon's longest zipline. There's also the oldest birding festival in the U.S. here, if you're interested in seeing more than 350 bird species in one place, which we sure are.
Things To Do
22121 Hwy 140 East
541-545-1010
Deli Station is committed to serving the freshest top quality sandwiches along with soups, salads, and other hot options such […]
1850 Main Street
(541)205-5374
Keno Grill is where good friends meet to eat. Check out the full menu of breakfast and lunch items for […]
3603 Diamond Street
(541)884-1545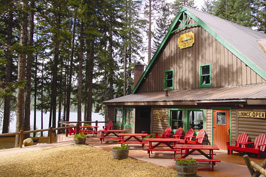 This historic mountain resort sits beside one of the clearest natural lakes found in the Southern Oregon Cascades. Guests can […]
950 Harriman Route
(541) 949-8300
3435 Shasta Way
541-884-4644
2716 Dakota Court
(541) 273-0206
Enjoy the quiet country roads East of town on this mid-length ride to Bonanza.  The ride begins at the OC&E […]
The Veteran's Memorial is located within the City's Veteran's Park in Downtown Klamath Falls. The Memorial features memorial bricks for […]
Established in 2016, Zach's Bikes is the locally-owned product of decades of combined experience in the industry. Moreover, they know and […]
831 Main St.
(541)851-9200