BEST HIKES FOR KIDS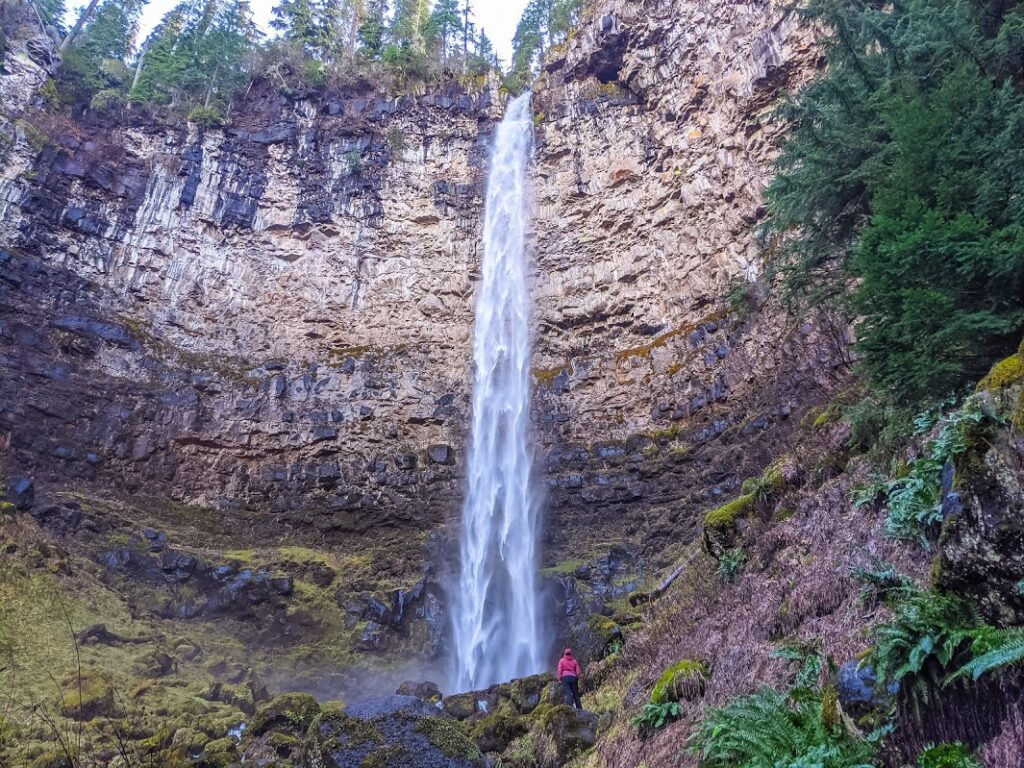 Watson Falls
Location: North Umpqua | Distance: .8 mile loop | Difficulty: moderate
Watson Falls is one of our favorite waterfall hikes in southern Oregon that you can hike all year long. Start at the Watson Falls parking area where the kids can explore around and dip their toes in the creek, then head across the street to take a hike up to the waterfall. Make sure to go all of the way up to the top to get up close and personal!
Limpy Creek Botanical trail
Location: Grants Pass | Distance: 1 mile loop | Difficulty: easy
Limpy Creek Botanical Trail definitely makes it to the top of our list for enchanting trails in southern Oregon. It takes you through gorgeous green forest with interpretive signs, over bridges, and along creeks making for an afternoon of fun exploration.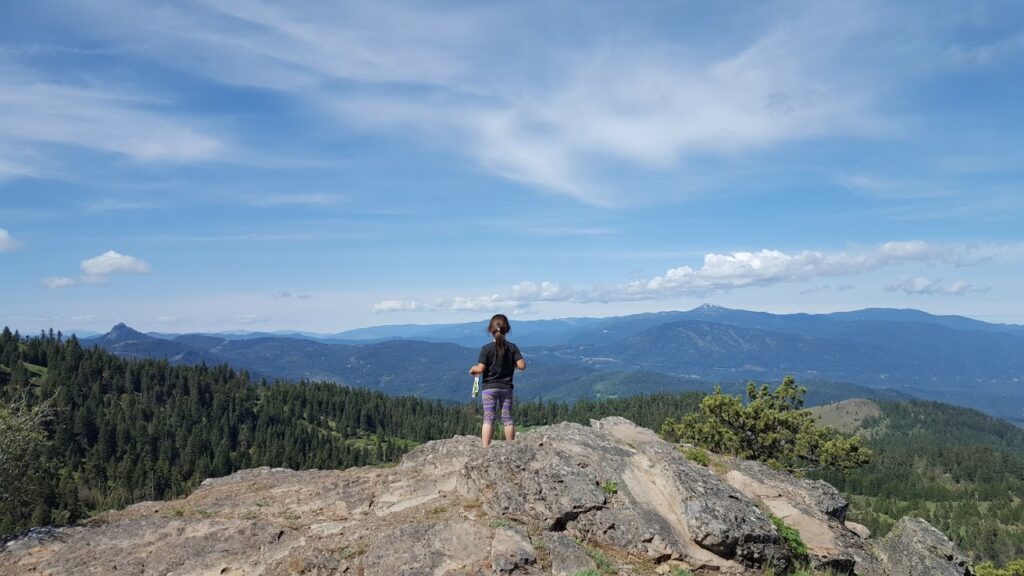 Hobart Bluff
Location: Ashland | Distance: 2.5 out and back | Difficulty: moderate
Hobart Bluff is a nice gradual hike to the top that is not only a beautiful trail, but the views are stunning when you reach the top. Get a bonus of wildflowers galore when you go mid-spring.
Ashland Meadows on the Pacific Crest Trail
Location: Mt. Ashland | Distance: 3 miles out and back | Difficulty: moderate
Looking for phenomenal views with gorgeous flowers? Then hit the portion of the Pacific Crest Trail that takes you from the Mt. Ashland parking to the beginning of the Grouse Gap Loop trail. There is a bit of incline but the reward is worth the extra effort. If you go in early July you will be rewarded with meadows of gorgeous wildflowers and views of Mt. Shasta and the Siskiyou National Forest.
Klamath Geo Trail
Location: Klamath Falls | Distance: 1 mile | Difficulty: easy
The Klamath Geo Trail is a great way to kick off your day and it's not too far from the center of town. Located above the OIT campus you get views of Upper Klamath Lake and rolling hills. The first half is semi-steep but quickly levels out and then takes you back down.
BEST HIKES WITH AMAZING VIEWS
Roxy Ann
Location: Medford | Distance: 2 to 5 miles | Difficulty: easy to difficult
Roxy Ann is probably the easiest hike to get to from the center of Medford. With a network of trails to choose from we can't choose just one. Just parking at the second gate you get views of the greater Medford area and then if you take the loop road trail you get views of Mt. McLoughlin, Agate Lake and the Table Rocks. If you continue up to the top, get above the clouds on cold winter mornings and see for miles on the sunniest days.
Forest Park – Rattlesnake Trail
Location: Jacksonville | Distance: .7 trail itself, 2.5 mile loop | Difficulty: difficult
Forest Park is a fun network of trails in Jacksonville that offers everything from easy to difficult and one of our favorite trails there is the Rattlesnake trail. It starts off of the Rail Trail and then becomes a one way trail that takes you through a very technical rocky trail that switches back and forth until you meet up with the Siskiyou Trail. As you continue up you will see beautiful views of the Forest Park trail system and Jacksonville.
Grizzly Peak
Location: Ashland | Distance: 4.7 mile lollipop loop | Difficulty: moderate
Grizzly Peak while it goes up most of the way it's a gradual climb. In mid-spring you can catch the beginnings of the spring bloom and when you get to the top you are greeted with stunning 360 views.
Mt. Mcloughlin
Location: Klamath Falls | Distance: 11 miles out and back | Difficulty: difficult
Mt. McLoughlin is one of those hikes that tests you not only physically, but mentally. Be prepared with lots of water, good hiking boots, sunscreen, and plenty of snacks. Trekking poles are also a big help especially in your last mile to the top where there is quite a bit of shale. And start early! There is no cover as you summit.
BEST HIKES TO PUT IN SOME MILES
Wonder Trail
Location: Ashland | Distance: 4.4 miles | Difficulty: moderate
Not only is the Wonder Trail a good distance it is beautiful! Starting at what is known as the Fairy Ponds it winds through the hills of Ashland taking you through beautiful forested areas. Get views of Ashland as you wend your way to the end and then either take the forest road back or return the way you came.
East Applegate Ridge Trail
Location: Jacksonville | Distance: 5.6 point to point or 11.2 miles out and back | Difficulty: moderate
East Applegate Ridge Trail can be hiked as an out and back or point to point hike if you want to leave a car at one end. This hike is magnificent with sweeping views of the Applegate Valley and beautiful wildflowers during the spring. This is also a great hike to do with kids if you start off of highway 38 and choose your mileage to do an out and back.
Cathedral Hills
Location: Grants Pass | Distance: 10 miles of trail | Difficulty: easy to difficult
Cathedral Hills boasts three trailheads with trails that vary in degree of difficulty. If you want the view, take the Skycrest Trail which is the easiest of the three. In the spring catch gorgeous wildflowers, fall all of the colors of Autumn.
As we go into the summer months we have a few tips for you!
As you get out for your outdoor adventures be aware that poison oak, ticks, and rattlesnakes are common occurrences in the summer months. Just pay attention to your surroundings!
Make sure you have your ten essentials with you, especially on longer hikes.
Food, water, and a first aid kit are among the most important essentials so have at least that when you head out on the trail.
Please also Leave no Trace as we want to preserve our state's beautiful assets for years to come!