Today stalwart country stores maintain their reputation for face-forward friendliness in the Applegate Valley, a 50-mile stretch of verdant land cupped between forested hills near Grants Pass and Jacksonville. These bastions of civic life still host travelers and residents alike — venues for informal coffee chats, the source of provisions for outdoor adventures and jumping-off points for exploring this lesser-known wine country.
Here we roundup a few country shops that are a must for any visitors to the area, with their slow pace, their surprising array of locally produced goods and their storefronts harkening back to simpler days.
Rumor has it that one of the first owners of this store, founded in 1875, had a beef with local politicians and moved the store to the other side of the street — a different county altogether. Today it's known for its awesome deli case and its most popular grilled sandwich: a turkey panini with bacon and apple on homemade focaccia. "A customer just told me we also have the best customers," laughs Crystal Roge , assistant manager, speaking while working the cash register.
Because of where it's situated, travelers always find a helping hand at Williams Country Store, the lone shop in this town of just more than 2,000 people. "People always come in here looking for directions," says Rick Worth, a young cashier who makes sure visitors always get where they're intending to go. He also makes sure they find delicious food and camping gear for their valley adventures — think coffee pots, grilling tools, tent stakes, headlamps and more.
Many regulars eat every day at this timeless general store and its roadside cafe, where homemade has always been the way of life. The made-from-scratch menu — think crab sprinkled eggs Benedict and turkey sandwiches prepared with house-smoked turkey — contrasts with the down-home vibes and funky decor. Stop in for a visit, and you're sure to meet the locals: farmers, artists and long-time area residents mingle in this true center of Applegate life. "We're the only thing out here," says Marryanna Reynolds, owner of the store for 15 years. "That's why we do everything the best."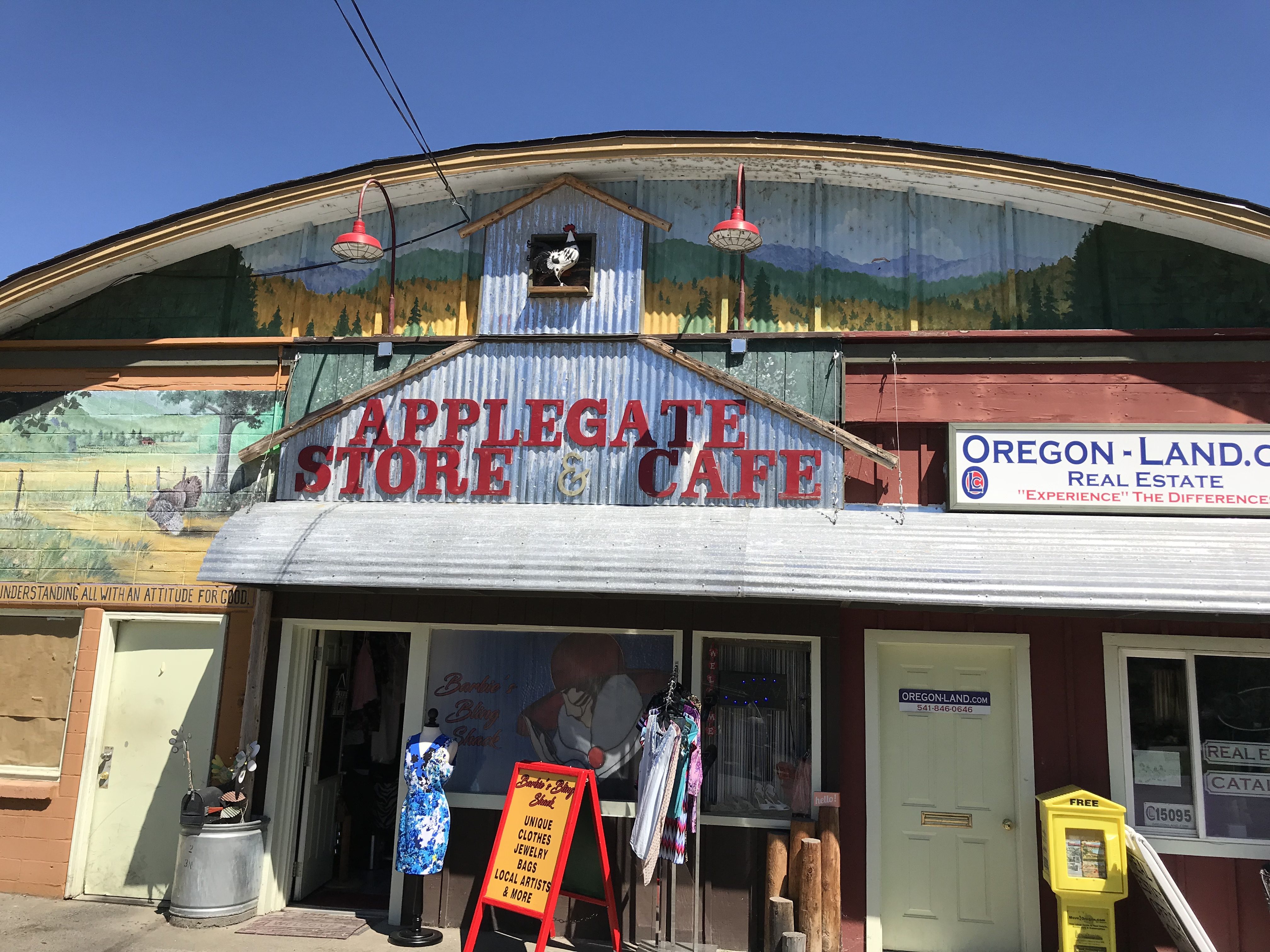 A giant case of Oregon-made Taylor's Sausage is a big draw to this small, family-owned country store. Ruch's is known for quality food and produce, great picnic supplies and a fantastic deli counter. Headed to Applegate Lake for the day? This is the last store on the way, and the shopkeepers know that. They have all the supplies you need — namely, a growler station with kombucha, cider and craft beers on tap.
Plan a Getaway!
Ready for a break? You'll find that here. But the reasons to come to the Applegate Valley are legion. First nearly two dozen stellar wineries form the Applegate Valley Wine Trail, from Soloro Vineyard (a boutique producer of Rhone varietals) to Cowhorn Vineyard (where biodynamic wines ferment in a facility that was the first commercial building in Oregon to receive Living Building Certification). Five lavender farms invite visitors to pick, sniff and relax amid fields of lilac-hued buds. Family-owned organic farms supply most of the provisions. The hills are alive and calling, and you'll get the best local favorites by talking up the townsfolk when you stop in at these great country stores.