In the past few years, southern Oregon has really stepped up our craft cocktail game. From distilleries to taverns to bars, we have a variety of choices where mixologists are bringing ingenuity and whimsy to their cocktails. Fresh ingredients are essential, carefully balanced with spirits that are flavorful, not always booze-forward. Many times gin, vodka, whiskeys and rums are distilled locally here in our own state. Checkout these craft cocktail bars as you sip your way all across southern Oregon.
KLAMATH FALLS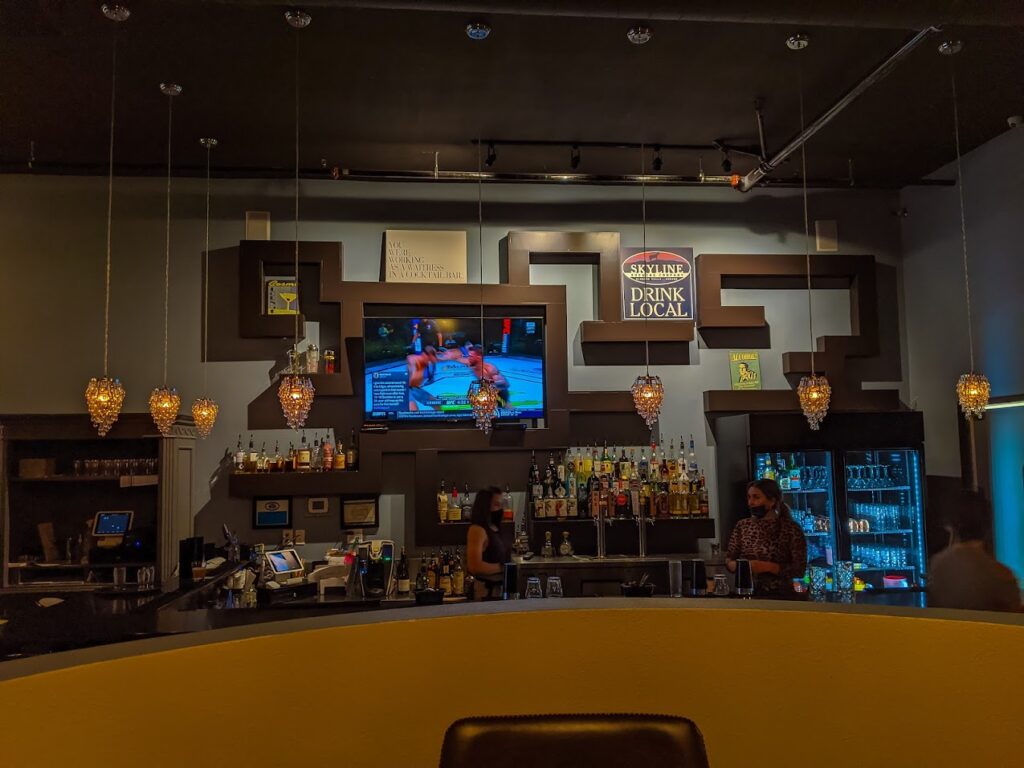 Basin Martini Bar
Located in downtown Klamath Falls, Basin Martini Bar mixes up craft cocktails alongside their delectable menu serving up comfort food, upscale street food, and crowd favorites like Crispy Avocado Spring Rolls and Chorizo & Clams.
Please note that this is a 21+ bar.
ROSEBURG
True Kitchen + Bar
True Kitchen is a family-friendly restaurant right in downtown Roseburg that is meticulous about every bite and sip that comes out of their kitchen. Offering comfort food staples and hand crafted cocktails, they always offer a selection of Mules, Margaritas and Martinis as well as seasonal cocktail and dinner choices.
Parrott House Restaurant and Bourbon Bar
Parrott House is on the National Historic Registry and was established in 1891! It is now a gorgeous restaurant with a cool little speakeasy bar called the Reform Bourbon Bar (super cool and cozy, though tiny). Enjoy cocktails and a delicious meal in their stunning pavilion that was built from reclaimed wood from the Seattle Rainier Brewery. It's very warm and comfortable, and the perfect place for date nights! They even have a beautiful outdoor space for special events.
MEDFORD
Conveniently enough, all of these bars are within walking distance of each other so as long as you pace yourself and have a designated driver, you can bar hop to all of them in an evening!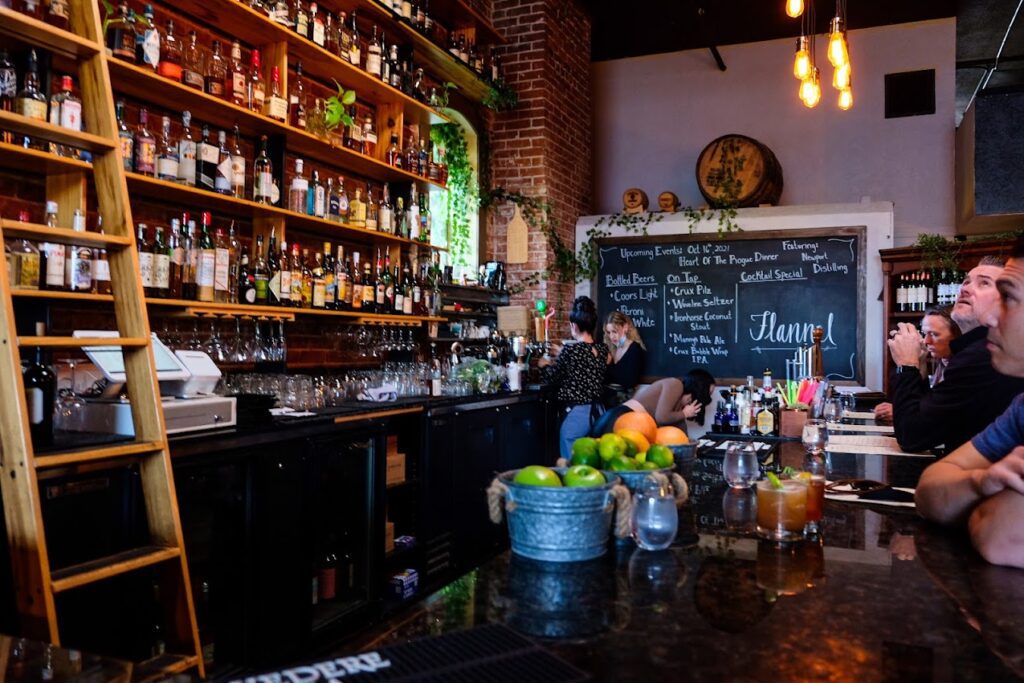 Pomodori Osteria and Bar
Pomodori is a local favorite for family dining, date nights, and late night noshing! Cocktails are carefully handcrafted and their menu is updated seasonally, with unique ingredients and amusing names that get you giggling.
JEFFERSON SPIRITS
Jefferson Spirits specializes in a vast whiskey collection; one of the most extensive in southern Oregon. They also craft delicious cocktails and serve upscale bar food like their Crispy Dumplings that are some of my favorites! While children are allowed earlier in the evening, it is definitely a bar scene with live music and open mic nights on occasion.
Immortal Spirits
Immortal Spirits handcrafts whiskeys, gins, vodka and rum, specialty liqueurs with their tasting room in downtown Medford. They serve up handcrafted cocktails with menu staples as well as seasonal options. Their food menu, while small, is mighty made with hand formed patties from grass-fed Black Angus beef raised in our own Applegate Valley! Psst, the Thai Fighter is to die for!
Coming Soon New Port Distilling's Tasting room in Downtown Medford
In what is a joining together of two wonderful businesses, New Port Distilling will be moving their tasting room from their distillery in Central Point to downtown Medford in collaboration with brunch favorite Over Easy. Hand crafted cocktails paired with Over Easy's brilliant evening menu; it will definitely be a hotspot with a projected opening of December 2021!
ASHLAND
Alchemy
Alchemy has probably one of the most beautiful bars in southern Oregon and offers just as stunning cocktails. Enjoy sipping in their garden during the summer, in their bar for a casual dining experience, or in their dining room for a more formal experience. Whichever you choose your palate is sure to be delighted!
Hearsay
When you walk into Hearsay you can't help but think of speakeasies of eras of the past. Cozy seating and a live piano player invite you to stay to relax and enjoy their fantastic cocktails and their delicious southern inspired fare. They also have a beautiful outdoor dining garden and serve Sunday brunch as well.
Larks Home Kitchen Cuisine
Larks is well known for delicious southern inspired dining and craft cocktails that change seasonally, with weekly specials that keep up with whatever may be farm-fresh and local. They are also a destination found on our Rogue Valley Food Trail map!
Oberon's
An evening of cocktails in Ashland must include Oberon's on the Plaza. Inspired by Shakespeare's, Midsummer Night's Dream, the décor is whimsical, the cocktails are complex, and just as inspired as the bar itself. Enjoy its immense selection of rare and sought after whiskeys as well as a small menu with English pub fare selections like Shepherd's Pie and Giant Smoked Turkey Legs!
HONORABLE MENTIONS
While these spots don't have a "bar" per se, they do have small menus of well executed cocktails that are delicious, and their spaces are all very family friendly!
Clyde's Corner in Phoenix
Clyde's Corner is a community gathering place that happens to make great cocktails. Since their main focus is their fantastic wood-fired pizzas, their cocktail menu is limited to four or five cocktails that incorporate seasonal ingredients and are perfectly well-balanced. They have a great indoor space where you can play pinball or a large outdoor space complete with fire pits and beautiful views.
Pump House Burgers and Brews in Talent
Located in downtown Talent, Pump House has become a community hub that serves great burgers with delicious veggie options as well. Their cocktail menu is limited but they are perfectly balanced, often utilizing fresh, local ingredients for their specials. They have a small indoor dining area, a large outdoor patio with fire pits that gets enclosed during the cooler months, as well as a large seating area in their parking lot.
The Haul IN GRANTS PASS
With a limited cocktail menu, they count on the ingredients to speak for themselves when crafting their cocktails. Sticking with the classics they incorporate seasonal ingredients as much as possible in not only their drinks but their food which includes delicious wood-fired pizzas and sandwiches. Also on site is Connor FIelds Brewing!
As always these are just some of our suggestions as our food and cocktails scene is ever changing. Come visit southern Oregon and see for yourself!