Home to wild rivers, deep canyons, dazzling mountains and iconic Crater Lake, Southern Oregon has enough natural beauty for all, and many destinations have thoughtfully improved or built in accessibility features to welcome more visitors. Here are a few options to inspire your next vacation itinerary.
Rim Views of Crater Lake
With vibrant blue waters circled by a jagged rock- and tree-lined rim, Crater Lake National Park welcomes visitors of all abilities through its collection of accessible trails and facilities, including the store, campground and restaurant at Mazama Village. Take in the volcanic lake – the deepest in the country – from different angles along the 33-mile scenic Rim Drive, which has a number of accessible stops along the way and can be driven as a full loop usually from early July to late October. Another option is to board the wheelchair-accessible Crater Lake Trolley, which operates from July 1 to September 8, for a narrated two-hour tour around the entire rim.
On the East Rim Drive, check out impressive overlooks, stop for a roadside picnic at spring-fed Vidae Falls, and walk or roll the first few hundred yards of the Crater Peak Trail to a scenic bridge among the trees. To fully immerse yourself in old-growth forest and canyon views, venture onto the nearby Godfrey Glen Trail – a 1-mile, fully accessible loop that sits between Mazama Village and the park's headquarters.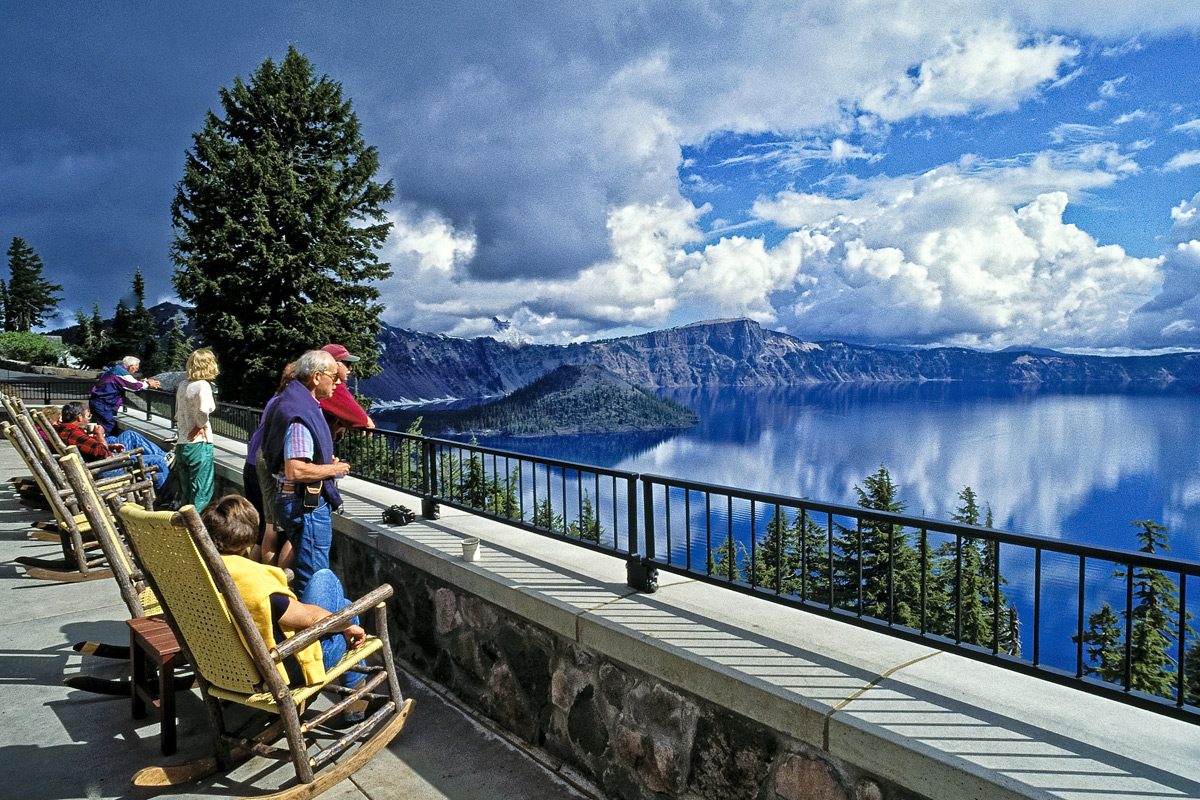 Crater Lake Lodge (Photo by Greg Vaughn)
Rails to Trails Path From Klamath Falls
Immerse yourself in the history and natural beauty of Southern Oregon by getting out onto the OC and E Woods Line State Trail. The 109-mile trail – and Oregon's longest linear park – is built on the 1917 railbed of the Oregon, California and Eastern Railroad. The urban section of the trail, stretching from Klamath Falls to Olene, is 7.6 miles of car-free paved pathway. The trail shows off farmland and Mt. Shasta, and traverses the narrow Olene Gap.
ADA-Friendly Zip Lining Near Medford
Thrill seekers of all abilities can partake in an adrenaline-filled adventure when they visit Southern Oregon. Rogue Valley ZipLine Adventure has special equipment and trained staff to allow people with disabilities to take their zip-lining tours. Located between Medford and Grants Pass, the zip lines whiz over the forests of the region's historic gold-mining hills. Note that while they are not officially ADA-compliant or ADA-accessible, they strive to accommodate guests who would otherwise be unable to take a zip-line tour. Call well ahead to discuss your specific needs and options with staff.
Skiing on Mt. Ashland with Oregon Adaptive Sports
Nature Walks and Concerts in Lithia Park
Making it onto the National Register of Historic Places, Lithia Park is one of Ashland's most charming places to visit. Dating from 1892, the city's beloved green space was designed by landscape architect John McLaren, who also designed Golden Gate Park in San Francisco. The half-mile Lithia Park Trail is a paved pathway that takes you by gardens, fountains, streams and duck ponds. Ashland's Parks Division puts on free 1.5-hour nature walks through the park led by trained naturalists on a mixed-surface path. City Band Concerts take place in the park on Thursday evenings in the summer. The concert area includes three concrete platforms for wheelchairs, two of which are near the handicapped parking lot.
Adaptive Skiing on Mt. Ashland
Each winter Mt. Ashland dons a fresh coat of powdery snow and beckons winter-sport enthusiasts to ski down its gentle slopes. In a continued effort to be more inclusive, Mt. Ashland Ski Area is working with Oregon Adaptive Sports, a Bend-based organization, to offer an adaptive ski program for the winter of 2022 that will use adaptive ski equipment to get more people on the slopes. Those interested in volunteering to help can get more information here.
Boating and Lake Fun on the Rogue River
To experience some of the Rogue River's 215 miles, take a cooling ride with Rogue Jet Boat Adventures out of Central Point. You'll need to be able to walk or roll on the compressed granite path and a ramp to the docks, then descend three small steps and lift yourself onto a seat or be assisted by a caregiver to board the boat. Add on a Discovery Park Experience to enjoy a private lake, bass fishing from an accessible dock, games and picnicking at a 53-acre park along the river's sloughs. With advanced notice and approval, the park can also be accessed by vehicle.
Story by Emily Gillespie