February is the month of romance but why shouldn't love be celebrated all year long? There are always moments to celebrate, weddings, anniversaries, engagements or just being in love; sometimes it is just good to get away for a weekend away or for a staycation. There are so many places to snuggle up with your love and we've chosen a few unique places to kick off your shoes and relax a bit!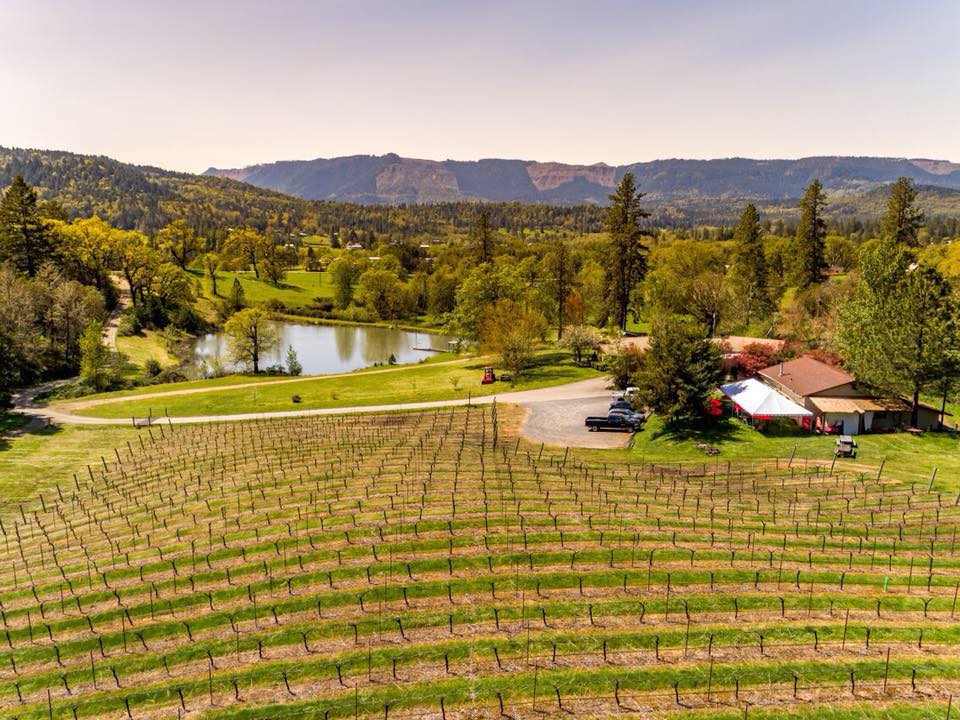 Roseburg
Stunning views and wine tasting right outside your door, find your romance at Delfino Vineyards. A nearby creek adds to the ambience and serenity of the property.
What to do nearby: Visit nearby wineries, go beer tasting, and enjoy the local cuisine. Go on hiking adventures on the Thundering Waters trail in the Umpqua National Forest where you can visit up to seventeen different waterfalls.
Central Point
Get whisked away to the English countryside when you stay in this gorgeous estate. Built in 1926, owners Ed and Susan have preserved the wonderful history held within its walls. Stay in one of the gorgeous suites, each decorated and then enjoy their cozy tasting room while sipping wine. The view is unmatched with sweeping views of the Rogue Valley including Mt. Mcloughlin and Roxy Ann Peak.
What to do nearby: Visit the Artisans Corridor where you can nibble cheeses by The Rogue Creamery (makers of the World's Best Cheese), sample chocolates from Lillie Belle Chocolates, sip wine from Ledger David Wines. Hike the nearby Table Rocks, take a jet boat ride with Rogue Jet Boat Adventures, or fish on the mighty Rogue River. The historic town of Jacksonville is also nearby where you can peruse cute little shops, wine taste, listen to live music and learn the history of its early days. Read more about Central Point.
Medford
Built in 1914 Lady Geneva pulls out all the stops bringing you all of the comforts of home blended with elegance and decadence with special touches like locally made toiletries, complimentary afternoon tea, lattes, or cappuccinos in the library. Add special packages such as Romance, Cheese Lovers, or Wine Lovers to add to your experience. Breakfast is a step above with an amazing meal prepared by their chefs serving up decadent stuffed french toast, frittatas, fresh fruit and other delicacies.
What to do nearby: Lady Geneva is at the center of the Rogue Valley and just steps away from downtown Medford. Shop, dine, beer taste, and attend the theater and concerts all within walking distance. Just 15 minutes away is a hike up Roxy Ann Peak and if you want to venture a bit further you are just 15 minutes from Jacksonville, 20 minutes from Ashland, and 35 minutes from Grants Pass
Klamath Falls
With crystal waters in the middle of the southern Oregon cascades a getaway hear offers solitude and romance like none-other. Enjoy starlit skies, dine at the lodge, while enjoying the pure southern Oregon lifestyle. Snow gives the opportunity to enjoy snowmobiling, cross country skiing, or just relaxing by the fire. Summer takes a swim, rent a paddle boat, or just bask in the sun and sip on one of their famous bloody Mary's.
Want to immerse yourself in the outdoors? Lake of the Woods offers many options for RV and tent camping!
Jacksonville
Vineyard cottage charm located in downtown Jacksonville. Pick your room with the style you want; sleek modern lines of the Fireplace Suite or Old World style in the Library Suite there are a number of choices to fit your taste. Make sure to visit the on site Cricket Hill Garden Tasting Room.
What to do nearby: You "struck gold" with this spot being located in the historic mining town of Jacksonville! Shops, wine tasting, some pretty fantastic restaurants, and great little coffee shops right outside your doorstep. If you are an outdoor lover hiking trails are just steps away and if you really want to dig into wine country, spend the day in the Applegate Valley just 20 minutes away. Don't forget the Britt Festival during the summer!
Ashland
Stay in the Historic Railroad District and enjoy this quaint boutique hotel that preserved its history when it remodeled. Each room is painstakingly decorated with its own character and special touches. Enjoy dinner next door and then sip on port when you come back from dinner while sitting by the fire and then wake up to a delicious scratch made breakfast prepared by the innkeeper.
What to do nearby: Stroll locally owned shops and art galleries, attend the Shakespeare Festival or southern Oregon Cabaret, take a hike, bike ride, or run any of the nearby trails.
Rogue River
Enjoy a rustic lodge setting along the beautiful Rogue River, choose from rooms, jacuzzi suites, or cabins, and you will feel like you are on a backcountry retreat. Sit by the river nibbling afternoon hors d'oeuvres, evening cookies and milk, or campfire s'mores. Weasku loves to spoil their guests.
What to do nearby: Fish the Rogue River, shop and dine in downtown Grants Pass (they have so many cute shops), visit nearby wineries in Gold Hill, White City and Eagle Point.
For more information about each area visit the following links: