Close your eyes. Breath in the cool fresh air and feel the mist as the water tumbles over the rocks. The rumble of the waterfall is so loud you feel it in your stomach and the scent of moss and fresh water overwhelms your senses and you can't believe you are in Oregon. Don't miss this opportunity to immerse yourself in the very foundation of what living in Oregon is all about; our outdoor life!
These falls are the tallest along with a height of 173 feet into the Rogue River Gorge along the Avenue of Boulders. Spring offers the fullest flow but visiting year round you will be delighted with the changes. Access is a nice wide trail that is a great hike for the whole family. Take the main trail until you come to a big sign on the trail and take a right. You will see the waterfall on your left.
If you continue on the trail past Mill Creek Falls you get a bonus waterfall, Barr Creek Falls a 150 foot fall that gives you an extra special show if we've had a lot of rain with double falls!
Also make sure to check out the Avenue of the Boulders where the kids love to climb around and dip their toes into the water if it is warm enough!
Not far up the road from the Mill Creek Falls trailhead, head towards the quaint town of Prospect and you can take a short hike to view Pearsony Falls. It makes up in beauty what it lacks in height as you hike along Mill Creek under cover of mossy green trees. It's a great little trek for everyone since it is less than a 1/4 mile from the trailhead to view the falls and is 1.2 miles out and back for the whole hike.
Dogs on leash allowed.
When you follow this on your GPS you will feel like you are going the wrong way and just as you feel like you need to turn around you find the trailhead. This is a quick and easy hike for all levels, especially the kids at 1.1 miles round trip. Grab your raincoat because you get so close you will get soaked by the mist. A great hike for a break from the summer heat but be prepared with your mosquito spray especially close to sunset.
Dogs on leash allowed.
Warm Springs Falls is 60 feet tall but my favorite feature of it is that it has thunders of a columnar basalt formation. It gives you an other worldly feel and if you visit early summer it is surrounded by beautiful wild Rhododendron. You don't have to walk but 2/3's of a mile OUT and BACK on a flat trail making it a super easy spot to reach.
Dog on leash allowed.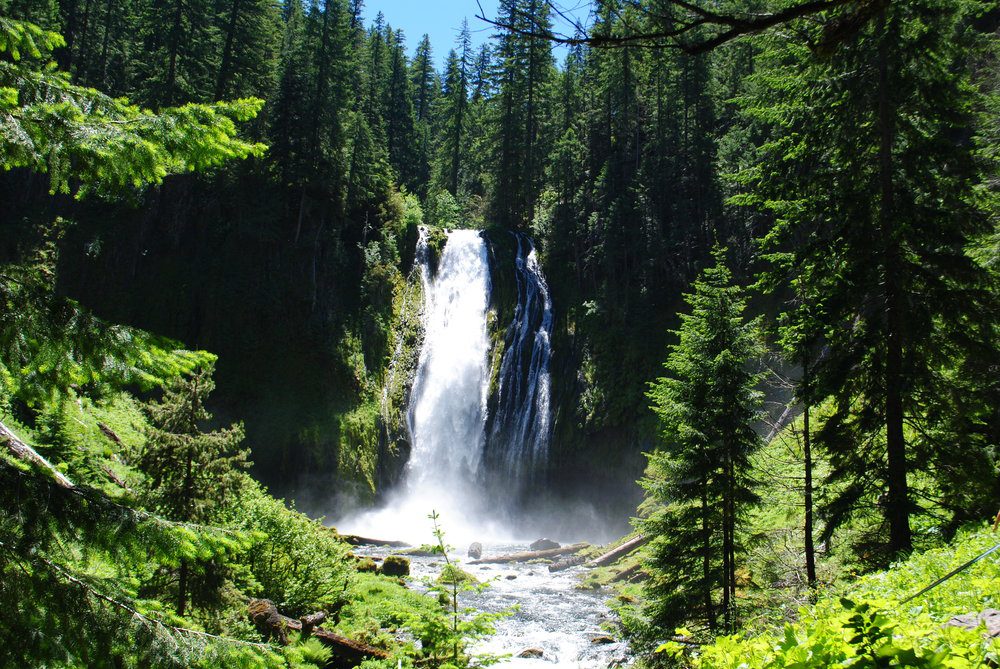 Lemolo is the tallest along the North Umpqua River at 165 feet. The trail to Lemolo is a bit rocky with a gradual decline in old growth forest. You can hear the sound of the falls long before you see them and then when you do I guarantee you will be blown away by the lush greenness and powerful beauty of the fall. The trek back up is pretty strenuous especially towards the end when you get back to the trailhead as it is completely in the sun. Make sure you have your sunscreen and bug spray! The whole hike is 3.2 miles out and back, just be aware that if you go during the winter you may encounter snow.
There are two ways to view Lemolo, from the top and bottom. I've never viewed it from the top because the viewpoint of the bottom is too beautiful to pass by. I will give you exact directions on how to get there because it can get a little confusing even with GPS.
Your gps will take you onto Birds Point Rd/NF-2610 drive about 4.2 miles from Hwy 138 and then straight onto NF-3401. NF-3401 will be right after Poole Creek Campground and before Lemolo Resort on the left side of the road. There is NO sign, but trust me that is the way to go. Stay to the left which will be NFD 800. You will turn right onto a very rocky, bumpy road and you will drive 1.75 mile. The first road on the right is where you will turn and drive for about 1/4 of a mile where you will meet the trail head.
Dogs are able to use this trail.
Clearwater Falls is a big impact without much exertion. You only have to hike .2 miles to the viewpoint. Hike up the left of the falls to see a gorgeous perspective of water flowing under tree roots as the water tumbles downs.
To see Whitehorse you literally just step out of your car and you are at the viewpoint. You can also get a closer view by a small trail that goes under the viewpoint. Is a pretty little thing that is only 14 feet tall that falls into a gorgeous blue pool. If not for the rushing of water it seems like it would be a fun swimming hole!
Watson Falls is probably my second favorite waterfall hike next to Toketee. It's a super short .6 mile loop hike that takes you through beautiful mossy forest and across wooden bridges until you reach the view of the falls coming over an amphitheater wall of basalt. If you feel extra adventurous, hike it in the winter to get a stunning view of it covered in ice and snow.
Dogs on leash allowed.
TOKETEE FALLS
This is probably the busiest hike on this list. The trail is fairly short at .8 miles out and back and it is well maintained. The views along the route are idealistic where you can see the river and you pass a stunning gorge along the way. Be aware that there are steep stairs so it does get a bit tiring but the view at the end is awe-inspiring with view of its magical two-tiered falls plunging over a huge wall of volcanic basalt. It truly feels like the set of Jurassic Park.
Susan Creek Falls is a very flat trail perfect for the smallest children and senior citizens. The whole hike is just under 2 miles surrounded by mossy trees and lots of flora and fauna.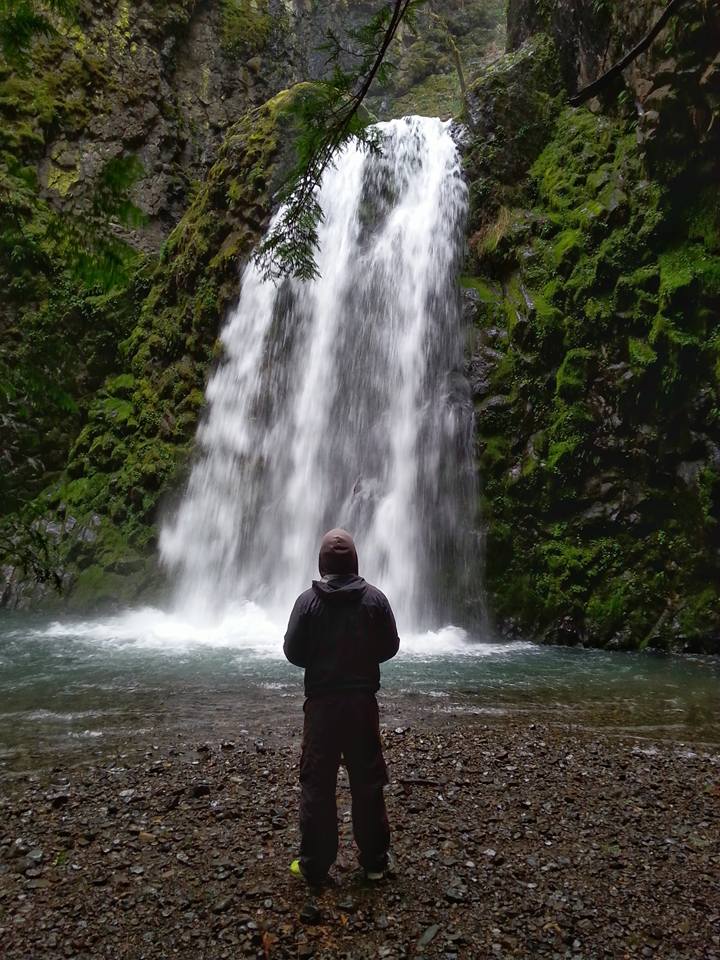 I think that this trail is one of the more underrated trails even though it is one of the prettiest. The whole hike is along Fall Creek surrounded by lush greenery, taking you through a narrow crevice in a large boulder, through an old-growth Douglas Fir forest. You get to be up close and personal with the bottom of Fall Creek Falls but you can continue on up to checkout two more tiers of the falls. Along the trail you can take a detour through Job's Garden Trail a .25 mile hike through a basalt rock outcropping.
Grotto Falls is the only waterfall in southern Oregon that I know of that you can go behind. You hike through old-growth forest and then it takes you behind the falls through a natural cavern adding an already awesome waterfall adventure.
This can be done in one day if you are feeling ambitious but if you want to take your time and explore more there are many beautiful campgrounds along the way!
You can check out more of our waterfall hiking adventures on my website What to do in Southern Oregon!