Head to the Oregon Outback to find one of the world's best places to ponder the cosmos.
Look at a map of Southern Oregon from space at night and it's what you won't see that really stands out: lights. That makes this region one of the best places in the world for stargazing.
This area of cosmic wonder includes portions of Malheur, Lake and Harney counties to the east of larger Southern Oregon cities like Medford, Klamath Falls and Ashland. They are so sparsely populated that the region is also known as the Oregon Outback. And while much of the nighttime world grows brighter every year, as much as 11 million acres of Outback are on track to become an official Dark Sky Sanctuary in 2023. That would be the largest area of its kind, and good news not just for curious humans checking out the Milky Way but also for wildlife that needs the dark to thrive.
"In many ways, this is preserving a cultural legacy, as well," says Bob Hackett, executive director of Travel Southern Oregon. "From both an Indigenous and contemporary perspective, people here have lived with this incredible [sky] for millennia."
Here's how to visit the area, along with some tips for what to bring, where to go and how to be good stewards of the dark.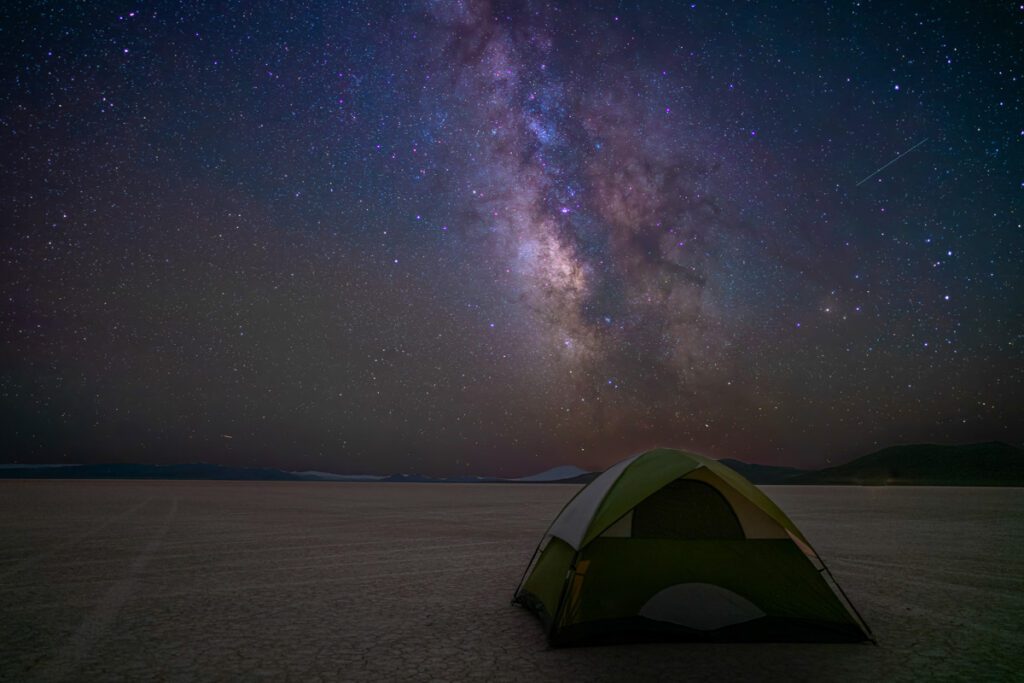 Gateways to the Stars
Studies show that 80% of Americans can't see our own galaxy at night thanks to manmade light pollution, and the issue is only getting worse. Every eight years, light in the night sky grows twice as bright as before, scientists say. The Oregon Outback bucks that trend. The remoteness and the dry, high-desert air also helps make stars pop.
But that's not to say you're totally on your own out there, either. Friendly communities serve as jumping-off points into a vast region of immeasurable rugged beauty by day and starry wonder by night.
If you're self-sufficient, there's plenty of camping in the area at places like Hart Mountain National Antelope Refuge, but it's also easy to find a roof, too. In Lakeview, about 95 miles east of Klamath Falls, the Hunter's Hot Springs Hotel has undergone a major renovation and will reopen in July 2023 with 23 rooms, some with private soaking pools, as well as front-row views of Oregon's only active geyser. The Tall Town Cafe and Bakery has filling omelets, burgers and a classic patty melt.
In Paisley, about 45 miles north of Lakeview, you'll find four rooms at the Sage Rooms motel on the Chewaucan River. The venerable Pioneer Saloon and Restaurant nearby — which turns 140 years old in summer 2023 — allows minors inside and serves taco salad specials. Chewaucan Station, a food cart on the main drag through town, offers wings, burritos and wraps. For car-free exploration year-round, check out Paisley Adventure for bike rentals and tours.
No trip to this area is complete without a soak at the Summer Lake Hot Springs 75 miles north of Lakeview, where you'll also find cabins with geothermally heated floors. The Lodge at Summer Lake has seven rooms, a collection of cabins and a pond stocked with trophy-size bass.
To experience even more solitude, head east to the Alvord Hot Springs 100 miles south of Burns to soak in rustic pools under the stars before retiring to one of 10 bunkhouses that sleep up to four people. The Frenchglen Hotel in Frenchglen near Steens Mountain, 60 miles south of Burns, is a state heritage site that features rooms where stagecoach travelers once stayed. For food options, try the burgers and shakes at historic Fields Station about 52 miles to the south or several choices northward in Burns or Narrows. In Diamond, another historic hotel, the Hotel Diamond, offers meals and hosts Beverly's Food Cart each Friday through Monday, serving brunch through dinner.
How to Be a Good Stargazer
To get the most out of your stargazing, you'll first want to check a moon-phase calendar and try to book your trip around a night with a new moon or as close to it as possible. Astronomical calendars can also alert you to cool celestial events happening each month. For example, the 2023 Delta Aquarids Meteor Shower will happen from July 12 to August 23 and peak on July 29. A Clear Sky Chart can help you figure out when in the next 96 hours the sky might be cloud-free.
Once on-site, please be respectful of other stargazers by using a red headlamp that's less intrusive, switch off your vehicle's lights, and try to do as much as you can to get by with no light at all. If you see photographers at work, remember even the tiniest bit of light from, say, your phone can mess up their pictures.
For digital assistance, Skymaps.com offers free stargazing maps each month. It's also a good idea to download a stargazing app that can use your location and time to show you exactly what you're looking at. Simply point your phone to the sky and the app will do the rest.
Top photo: Summer Lake Hot Springs by Joey Hamilton