by Tiffany Hill
And because it's fed solely by snow and rain, it's also one of the cleanest bodies of water around, shining like a sapphire within the Cascade Mountains.
During the summer months, Crater Lake is one of the state's most popular destinations, where parking and trails can be quite full. But a visit to the lake and its rugged surrounding park during the winter is just as magical, and less crowded. Here's everything you need to know.
Crater Lake National Park
Take a guided tour
Each year, Crater Lake gets an average of 43 feet of snow, creating a winter wonderland for snow-sport enthusiasts and photo buffs. Visitors can also take advantage of unique winter activities — available at no other time of year. The national park is open for cross-country skiing, plus a 9-mile snowmobile route each winter. You can't do that at the lake in August!
Also in the winter, rangers at Crater Lake National Park offers free guided snowshoeing walks, including snowshoe rentals. The 1- to 2-mile hikes are two hours long, during which rangers point out wildlife and plants and discuss nature's survival in the park's wintry conditions. Make tour reservations by calling 541-594-3100.
For those that still want to hike and take in the lake's Instagram-worthy views, snowshoe hikes such as the easy-to-moderate Discovery Point Trail are still open. The 4-mile out-and-back trail winds along the rim of the lake, starting northwest from the Rim Village Parking Lot. Winter time at Crater Lake is the best of both worlds.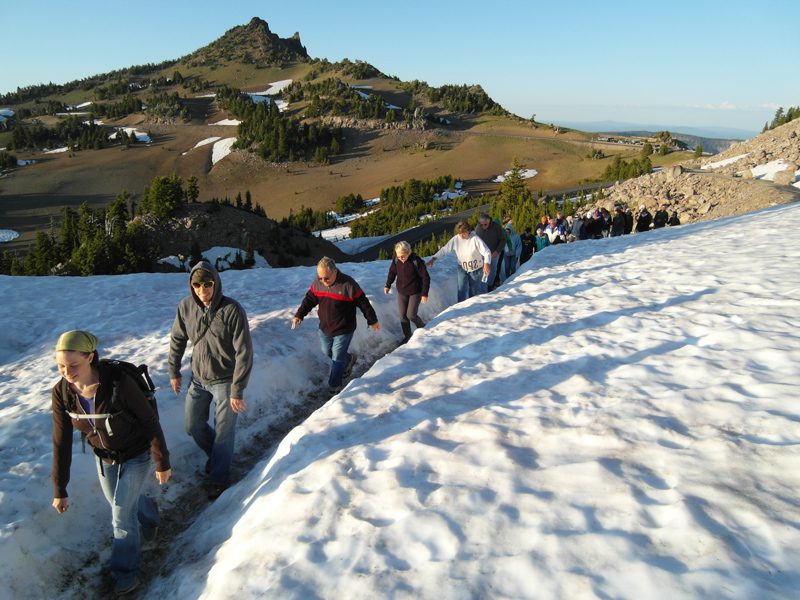 Wathman Peak Trail, Crater Lake National Park
Day trip to Klamath Falls
While Crater Lake may be the purpose of your Southern Oregon trip, there are other places you'll want to check out. Nicknamed Oregon's City of Sunshine, Klamath Falls — about an hour south of Crater Lake — is packed with outdoor activities like hiking and biking paths, golf courses and fishing spots. Visit in February to attend the four-day Winter Wings Festival, the oldest birding festival in the country, with more than 50 birding activities, tours, workshops and other events designed to celebrate the winter migration. Find lots of lodging options nearby.
If you go:
Weather will vary and can quickly change at Crater Lake, especially given its roughly 7,000-foot elevation. Before you hit the road to the national park, visitors should check weather and road conditions and the real-time webcams showing conditions at the park.
In the snowier months — typically from October to March or April, depending on weather — the North Entrance Road entrance and Rim Drive are closed to vehicles. However, the west and south entrances are open year round and plowed daily.
Visitors should also have all-wheel drive or front-wheel drive vehicles, as roads can get wet or icy. Be sure to dress warm and bring water with you, especially if you are hiking, skiing or snowshoeing. Want to bring Fido? You can bring leashed dogs to Crater Lake, but they are only allowed in certain areas. For example, the visitor center parking lot and paved roads, such as the quarter-mile paved promenade at Rim Village.
Tiffany Hill is a writer and editor from Honolulu living in Portland, but grew up in the bucolic Southern Oregon town of Merlin. She specializes in travel, culture and business and her work has appeared at USAToday.com, Fodor's O'ahu Travel and the inflight magazines of Alaska and Hawaiian airlines. When she's not on assignment, you can find her playing roller derby.