by Shellie Bailey-Shah
Roseburg to Glide and Along the North Umpqua River
Once known as a timber town, Roseburg is now home to a growing winery and craft-brewery scene as well as the Douglas County Museum, showcasing Oregon's largest natural history exhibit, "The Land of the Umpquas." The byway then leads east on Highway 138 through scenic oak-dotted hills and meets up with the North Umpqua River near Glide. It's a spot known as Colliding Rivers, where the North Umpqua and Little River merge head-on in a swirl of white water.
Just outside of Glide, visit River Ranch Oregon Olive Oil — one of many stops on the self-guided Great Umpqua Food Trail. Here the olive trees benefit from an abundance of water and plenty of sunshine. As you travel upstream along the North Umpqua, stop and cast for Chinook salmon, coho salmon, cutthroat trout and summer steelhead, the Umpqua's most prized game fish. Or if you're a hiker or mountain biker, hop on a section of the 79-mile North Umpqua Trail, which runs along the river's banks through old-growth forest. You'll find numerous campgrounds for a peaceful retreat along the way, as well as the Steamboat Inn, which offers overnight accommodations in suites, cabins, cottages and houses.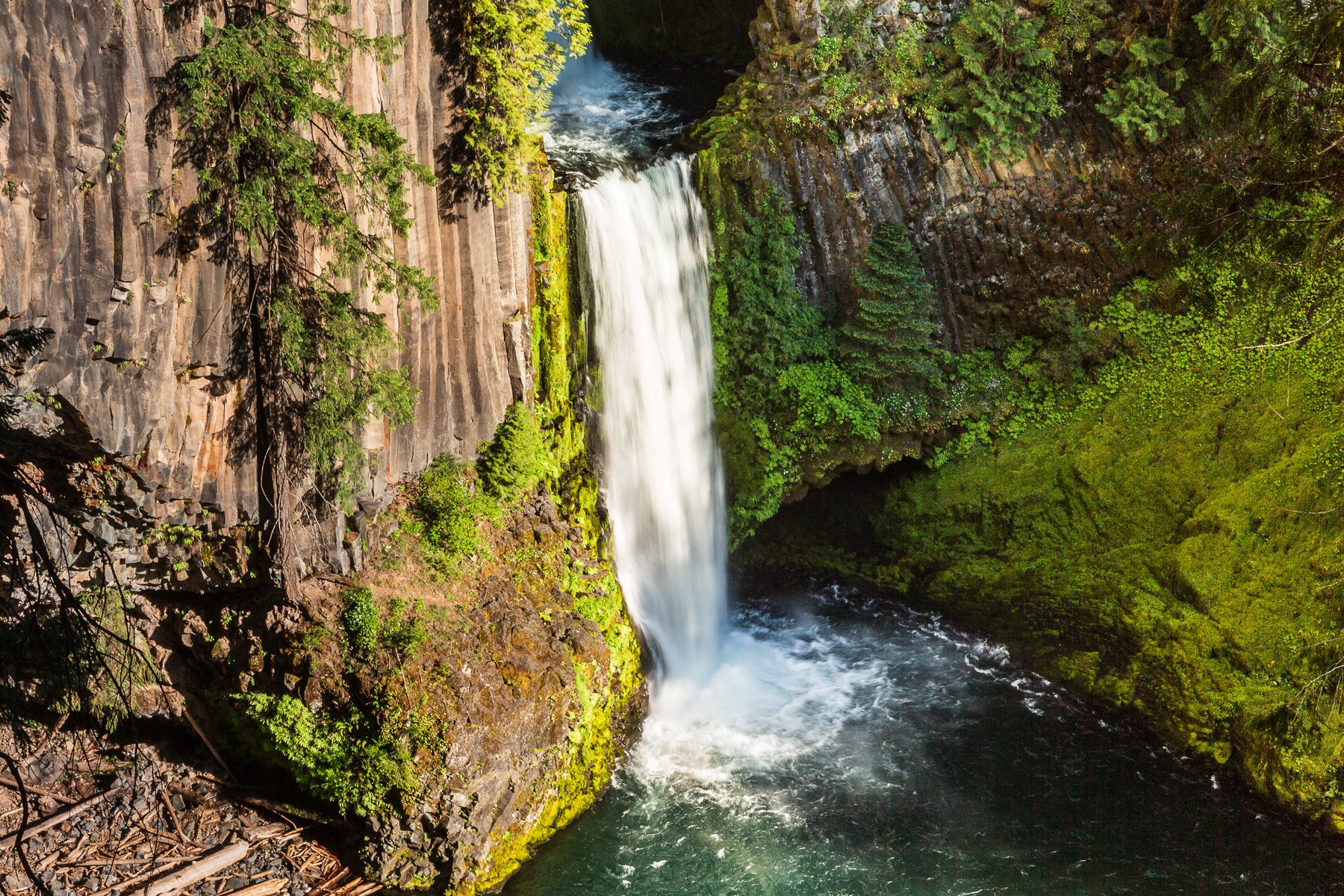 Toketee Falls. Photo Jak Wonderly
Earning its nicknames as the "Highway of Waterfalls," the byway winds through the Umpqua National Forest with more than 15 cascades, including double-tiered Toketee Falls and 272-foot Watson Falls. Just off the byway, you'll find Lemolo Lake Resort, a quiet tent and RV campground known for its record-size brown trout.
Diamond Lake
Diamond Lake to the Rogue River
Past Lemolo Lake, the byway bids farewell to the North Umpqua River and turns south to skirt the shores of Diamond Lake. Framed by both Mt. Thielsen and Mt. Bailey, Diamond Lake is indeed a jewel of the Cascade Mountain range. In summer and fall, visitors enjoy resort facilities, boating, swimming, fishing, hunting, horseback riding and cycling on a paved path around the lake. In winter, the resort becomes a popular snowmobiling hub and base for snowcat skiing and snowboarding on Mt. Bailey.
At this point, you could detour south to Crater Lake National Park. Or continue to hug the Rogue River heading south on Highway 230 to Union Creek, the western terminus of a wagon road for settlers crossing the Cascades. A short path leads to an observation platform overlooking the Rogue Gorge, a collapsed lava tube where the river now courses through a 25-foot-wide, 40-foot-deep chasm. At the Natural Bridge interpretive site, learn how the river disappears through an underground lava tube, forming a land bridge.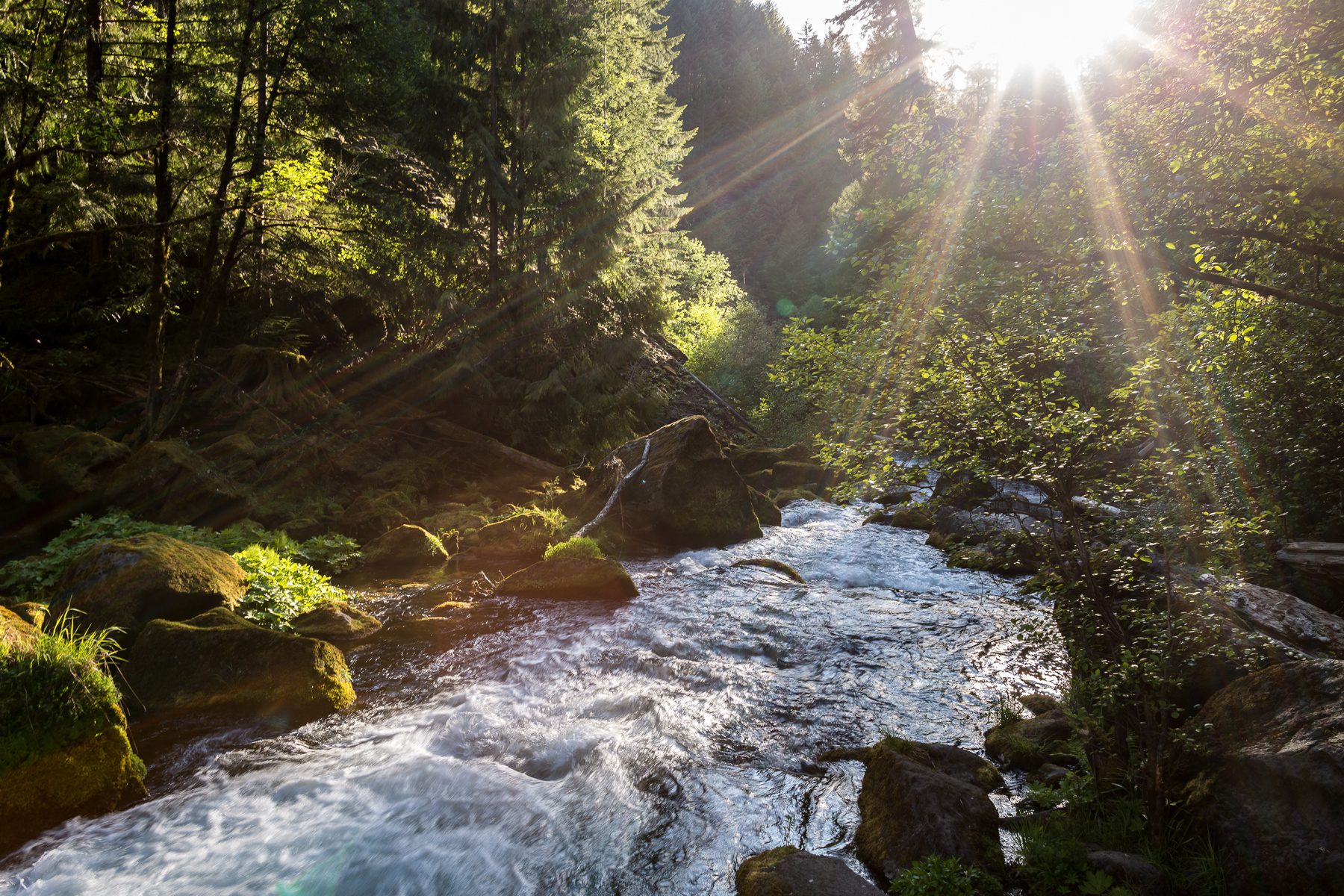 Along Highway 62, the byway passes several campgrounds and fishing spots as it follows the Rogue downstream. At Joseph H. Stewart State Recreation Area, the river widens into Lost Creek Lake, a popular spot for boating and fishing. Farther south, Shady Cove is a departure point for anglers and rafters floating the Upper Rogue. The route ends in Gold Hill, less than a half hour from Grants Pass and the I-5 interchange, with plenty of options for well-earned food and drink on a patio this summer. Try Climate City Brewing Company or Wild River Brewing & Pizza Co.