by Ariel Frager
In winter, the tasting rooms — about an hour south of Crater Lake National Park — create cozy spaces both indoors and outdoors, with blankets, firepits and warm, inviting fireplaces inside. Winter is a wonderful time to enjoy the bold red wines as the deep concentrated flavors of the Upper Rogue wines complement the flavors of hardy, cold-weather foods.
Cliff Creek vineyards in Sams Valley
The four tasting rooms on the Upper Rogue Wine Trail are family-owned and operated, and showcase immense pride in their labor with every tasting. They each offer a different feel and experience, and all share incredible views of their own vineyards. Here's how to explore the trail in an afternoon.
Starting in the tiny town of Gold Hill — just off Interstate 5, about midway between Grants Pass and Medford — Del Rio Vineyards tasting room is housed in the historic Rock Point Stage Hotel, originally built in 1864. Try their award-winning pinot gris, chardonnay and pinot noir.
Del Rio Vineyards
Travel about 10 miles northeast (to experience the trail in a clockwise direction) to the town of Gold Hill, where Cliff Creek Cellars has a rustic, down-to-earth vibe that creates a cozy atmosphere. Look for the acclaimed merlot and syrah in the tasting flight.
Eight miles east along Sams Highway, Kriselle Cellars in White City boasts a classy, warm and open tasting room, perched at the highest point of their property for great views both inside and out. Sip Di'tani, Kriselle Cellars' unique proprietary blend of five grape varieties.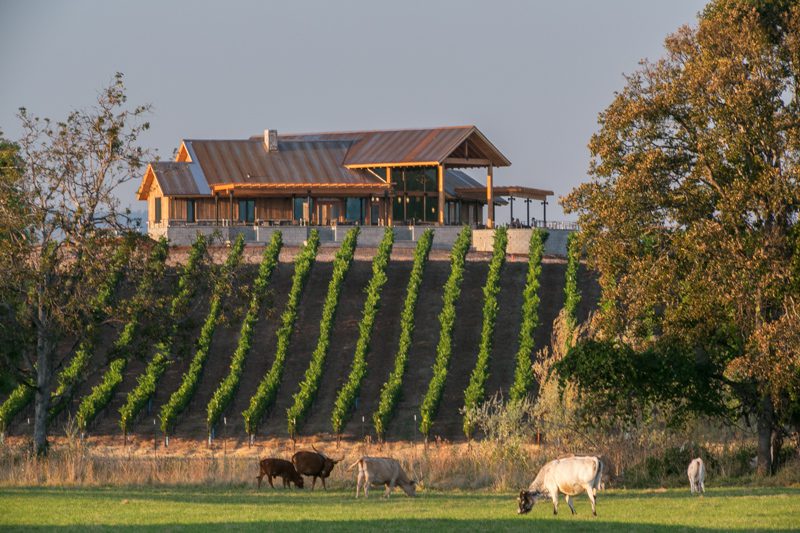 Kriselle Cellars vineyard
And just six miles south in the Rockwellian town of Eagle Point, Bayer Family Estate recently finished a grand Tuscan-inspired tasting room and garden area. Experience their full-bodied zinfandel and nebbiolo reds.
While Southern Oregon is a world-class destination for wine lovers, visitors here can meet and chat with the winemakers or the owners while tasting, for a uniquely personal experience — and an educational one too.
Table Rocks
You may hear how the four wineries of the Upper Rogue Wine Trail, nestled along the Rogue River and the easy-to-hike Table Rocks with some of the best views in the Rogue Valley, cultivate a surprising diversity of varietals due to the range of microclimates in the region. The unique composition and concentrated characters of the wines come from the well-drained Rogue River soil. And because these wineries occupy a warmer American Viticultural Area than other parts of Oregon, the wineries produce big, bold reds like tempranillo, zinfandel and bordeaux, and showcase whites like sauvignon blanc, pinot gris and chardonnay.
If you go:
All four of the Upper Rogue Wine Trail tasting rooms are open year-round, which means you can explore the area throughout Southern Oregon's four seasons.
If you love the Upper Rogue Trail in the winter, make sure to return in the spring for Roam the Rogue, a self-guided open-house event that happens every first Saturday in May to kick off Oregon Wine Month. The wineries pour Gold Star wines and offer artisanal local foods pair with the selections of red and white wines.
Ariel Frager is a travel writer, adventurer and kid wrangler. She specializes in writing about outdoor adventures with children that are also fun for the adults. When she isn't exploring the wilds of the Pacific Northwest, she is an elementary school counselor and adjunct professor. Ariel lives in Portland with her family.