Talent and Phoenix are towns in rebirth. Just walk down Talent's Main Street during the Friday Night Evening Market and you can feel the buzz of energy as everyone supports local businesses while enjoying their diverse dining scene. New businesses are popping up every day adding to this small community that thrives off of good food and artistic ingenuity with a strong hold on supporting its small businesses. Join us as we give you a tour of these small Oregon towns!
WHAT TO DO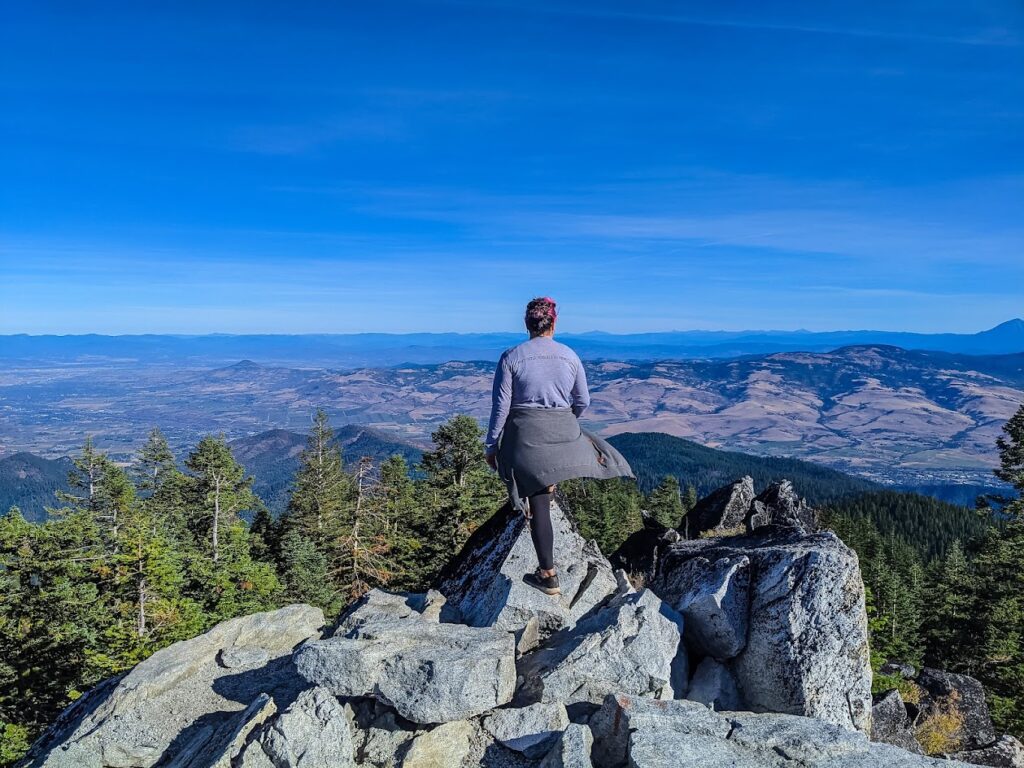 HIKE WAGNER BUTTE
Wagner Butte is popular with hikers and enthusiastic runners alike. At 2352 feet in elevation gain and 9.4 miles round trip, it can be a challenging but very rewarding hike. The trail takes you through stunning forest, and open meadows summiting at 7140 feet. When you get to the top you will be at the site of a former Forest Service Lookout originally built in the 1920s, that was replaced in the 1960s, and then finally removed in the 1970s as airplane surveillance became a more efficient way to locate fires. Bring a camera because you will want to capture the panoramic views at the top. Extra tip: Wagner Butte has snow as early as October and sometimes into June so check the local weather service to find out conditions.
Talent Maker City – Talent – Oregon
ART & THEATER
We are always on the lookout for fun things to do with our kids and Talent Maker City is the place to be. It's a community makerspace offering hands-on STEM-based workshops! Right now they don't have in person classes, but you can participate in online fun like miniature making book ornaments and wrapped rocks. They are also very involved with the local schools, encouraging students to get involved with STEM programs, building skills that will last a lifetime. Watch this video of an awesome project that they worked on with Phoenix High School students.
If you are looking for a fun date night or even some fun with the kiddos you must catch a show at Talent's own Camelot Theatre. They bring Broadway shows to this intimate theatre right in downtown. A perfect opportunity to grab dinner and a show!
You will definitely want to head into Phoenix to Northwest Ceramics Studio where they offers pottery classes to children and adults with no experience required. On Friday nights they regularly offer 1 ½ hour, one time clay classes on the pottery wheels, as well as private classes and events.
Then we get to the tried and true sip and paints! Wine and Brush in Phoenix offers no experience necessary painting classes in the Shoppes at Exit 24. Perfect for a date night, or girls night out you can enjoy an evening painting and sipping beverages.
SHOP
If shopping is your thing there aren't a lop of options but there are some fun and unique places to enjoy!
If you are in Talent, Biscuits and Vinyl is a cool little vinyl shop that brings in the old and new on a regular basis and right next door is Sona CBD where you can purchase gifts, tinctures, oils and more. You also don't want to miss the Talent Evening Market during the summer. The community brings together artisans, makers, and food in the park across from City Hall. The warmth can be felt as neighbors shop, eat, and chat, enjoying each others company.
If you head to Phoenix, the Dragon Crystals rock store has a cute little shop full of crystals, rocks, and even some jewelry. Then you will want to head right up the street to the Gypsy Trader for an eclectic selection of vintage and recycled clothing and home goods!
EAT & DRINK
For such small towns there are surprisingly a lot of unique dining options.
For breakfast, if you are just looking for coffee drive-thru The Organic Grind in Talent but if you want a full hearty breakfast you do not want to miss Sweet Beet Station! Sweet Beet serves up farm fresh dishes, house made and locally sourced, like my favorite Polenta Bowl, and yummy baked treats.
For lunch and dinner the options are just about endless. In Talent, J's Bistro Wagon is a food truck with a large outdoor seating area that cooks up the most amazing pork sandwich, and offers a variety of sandwiches, salad, burritos, and tacos among other dishes. Another food truck in Talent is Stone's Jamaican Roots and Juice serving up delicious Jamaican food and fresh pressed juices. If you are looking for delicious burgers and cocktails, the Pump House, Burgers and Brews is a meeting place that is vibrant and fun with a large outdoor seating area complete with firepits, where they even have trivia night. Right across the street is The Grotto, slinging pizzas and huge sandwiches! Continue your foodie tour by heading up the street to the new kid on the block Gather Cafe Bistro Bar where they serve craft cocktails and Indian fusion fare in a cozy cottage. If you are looking for a more formal evening Arbor House is well known in southern Oregon as a date night spot with delicious food and intimate atmosphere.
Finish off your evening at the chill vibe of Art Bop Beer where home brewed beer cocktails and sodas are awaiting in an artsy and jovial atmosphere. Bring your own art supplies to create, or enjoy their little art corner where you can buy coasters to decorate while listening to live music if you catch them on the right night.
Make sure to head over to Phoenix so you don't miss Clyde's Corner, a new favorite spot for wood-fired pizza and fresh salads with a curated bar menu and a huge lively outdoor space. And you can't forget the The Oregon Cheese Cave where French born Melodie will charm you with her French accent and her local and imported cheese platters and waffle bowls.
Bonus, Talent also has its own distillery Pioneer Whisky where you can enjoy tastings on Saturdays and Sundays.
WINE
Of course you can't visit Talent and Phoenix without checking out their vibrant wine scene! Stop into the Catalyst Wine Collective in Phoenix to enjoy curated tastings from small production wineries of southern Oregon including Sound and Vision, Ryan Rose, and Goldback, and sometimes even some guest wines. Find the sought after "orange" wine here from Goldback if you are lucky enough to catch it on their tasting menu when you visit!
If you want to do some all day tasting head out on your own wine tour and visit the ten wineries, vineyards, and tasting rooms in Talent. Stoneriver is a sustainable vineyard who's tasting room has a fun country tavern feel sharing their 18 wines with patrons offering video games and shuffleboard, as well as live music on the weekends. Looking for something a little more intimate? Call or email Upper Five Vineyard for a private tasting appointment to be educated about their Biodynamic natural wines. Terry is passionate about his farm, wine, and giving people the best product the land has to offer. If you have limited time, stop into the Trium Wines tasting room right in downtown Talent where they have a large outdoor patio that hosts live music on the weekends with their award winning wines.
Other wineries in talent include Paschal Winery and Vineyard, Naumes Suncrest Winery, Aurora Vines, and Pebblestone Cellars. Unfortunately the Almeda Fire took Simple Machine's tasting room, though they are currently rebuilding so will be open soon with their brand new tasting room!
WHERE TO STAY
Paschal Winery and Vineyard offers four different cottage experiences to choose from including two dream cottages, a glamping experience, and one right on the edge of their personal pond. You can book HERE
NOTABLE EVENTS
TALENT HARVEST FESTIVAL
The Talent Harvest Festival is a celebration of food, farming, and community, bringing together our local non-profit organizations as well as vendors, food trucks, and lots of live music.
Enjoy this run and celebration of Latin heritage. Run the race and then stay for the celebration that includes live music and dancing, with food trucks, vendors, and organizations with lots of activities for kids!
As you can see Talent and Phoenix are small communities that have so much to offer you will want to make it a destination next time in southern Oregon. From family activities, to outdoor enthusiasts, to a romantic weekend away you can enjoy the best of southern Oregon in Talent and Phoenix!