The Lower Rogue River and Illinois River trails combine low elevation and pristine wilderness for great year-round hiking.
It's no secret that Oregon's wilderness is second to none. With remote lakes, snowy peaks and storybook forests of ancient trees dripping in moss and awe, the state's untrammeled beauty belongs to those who hike.
Some trails, however, are so special and unique that they deserve extra attention, and Southern Oregon is home to several of them. These signature trails are the best of the best, the routes with rewards so great they become destinations in and of themselves. They highlight the most stunning landscapes, run near charming towns, and can be done as day hikes or an epic backpacking adventure. The Rogue River and Illinois River trails are just two of them, and they're low enough in elevation that you can hike them in fall and even winter, too.
"The opportunities for solitude are awesome," says Gabe Howe, executive director of the Siskiyou Mountain Club, which restores and maintains about 400 miles of backcountry trails in the area. "It's rugged, remote, and the quality is out of sight."
Note: Before visiting, check these resources for the most current information about weather and travel conditions in Southern Oregon.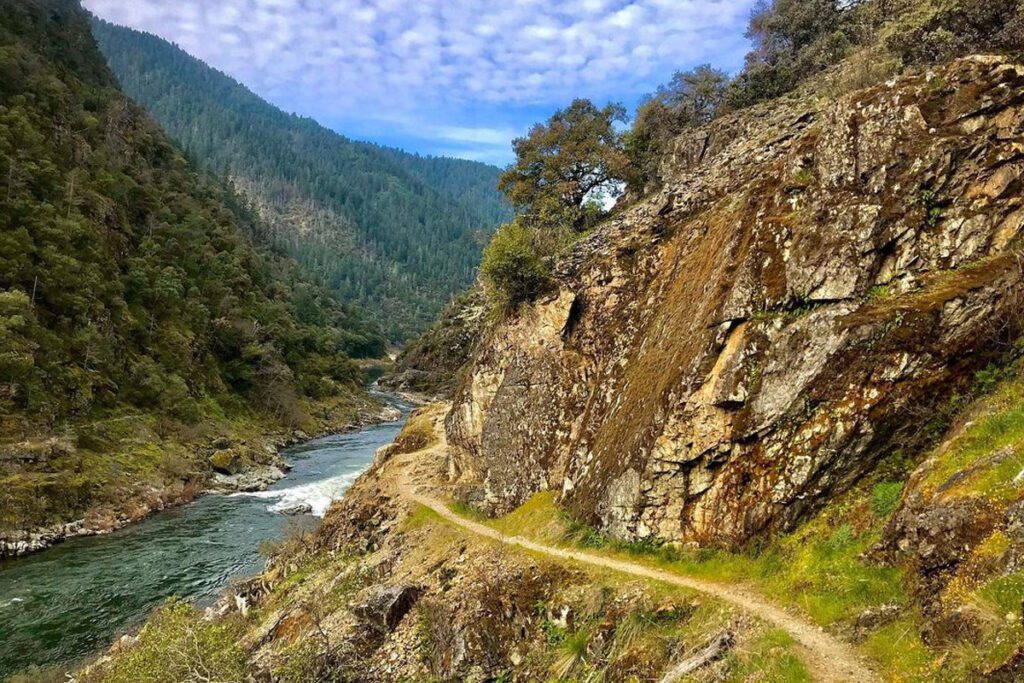 Old-Growth Forests on the Lower Rogue River
The magnificent Rogue River, with its thundering canyons and surrounding pristine wilderness, was one of our country's very first rivers to earn protection under the Wild and Scenic Rivers Act of 1968, but you don't have to be a river rafter to explore it. The 40-mile Rogue River National Recreation Trail wanders through the same valley and one of Oregon's most remarkable and timeless old-growth rain forests, home to wildlife like charismatic black bears and bald eagles.
In cooler months, set your sights on the Lower Rogue River Trail, which offers a shorter, lower-elevation option that can be done in out-and-back day hikes or as a short through-hike with proper planning. The trail, No. 1168, runs for 12.5 miles between Gold Beach and Agness and never punches higher than about 790 feet above sea level. (It gets as low as about 72 feet.) But don't let those numbers fool you; the route is rugged, narrow and steep in places, with about 2,000 vertical feet of climbing no matter which direction you hike it. You can access the trail in two places: near Gold Beach and near Agness.
Experience Exceptional Wilderness Along the Illinois River
So many millions of eons ago, bits of the earth's fiery mantle were scraped up to the surface where they solidified to form an ancient, tropical island chain rich in magnesium and other metals. Fast-forward and the land that would become Southern Oregon — once well underwater — burbled up to the surface to encompass those islands that today form the heart of the 179,655-acre Kalmiopsis Wilderness.
The challenging and extraordinary Illinois River Trail, No. 1161, wanders through the northern portion of an area rife with freakish wonder due to its singular geological conditions. Uncommon carnivorous plants like the cobra lily eat insects to supplement their diets. Rare specimens like the Kalmiopsis flower bloom on hillsides only a hiker might see. Even the trees look different, the result of sucking up nutrients seasoned by the mantle's metals.
"It is exceptionally unique," says Howe of the Siskiyou Mountain Club. "You're going to see things you can't see anywhere else in the world."
The entire trail runs for about 28 miles from a trailhead close to Briggs Creek Campground near Selma to the Oak Flat Trailhead near Agness. (There are two Oak Flats at both ends of the trail, so don't get confused.) In between you'll get outstanding views of the Illinois River — designated a Wild and Scenic River like the Rogue — but you won't actually be on the river except for little pieces here and there. You'll cross numerous tributaries and pass through several burned areas, so watch out for falling snags.
Doing the whole trail takes some planning, and accessing the eastern trailhead isn't for low-clearance, two-wheel-drive vehicles. (The Siskiyou Mountain Club can offer tips on how to get there.) But day hiking is a great option, too. From Briggs Creek, it's about 5 miles one way to the Florence Way Trail, No. 1219A, and a spot along the river called Pine Flat. From the Agness end, it's about a 2.5-mile hike to Buzzards Roost, an outcropping with great views of the river below and the historic Fantz Ranch.
If You Go:
Be sure to check conditions with the Rogue River and Siskiyou National Forest and check Travel Southern Oregon's resource page for potential wildfires, weather conditions and travel hazards before you go.
As with all wilderness adventures, preparation is key. Before setting off on any trail, especially these, you need to know how to stay warm and dry, to purify drinking water, and to use a map and compass. Consider taking an introductory backpacking course — ask your local outdoor outfitter for places to sign up.
Never rely entirely on a digital device — particularly a phone — to keep you on course, and always let someone know your plans.
These are wild places where humans and their impacts must never remain, by federal law, so leave no trace, pack out what you pack in and properly manage your waste.
Consider a donation to the Siskiyou Mountain Club, the go-to experts for information on these areas — its volunteers have labored long and hard to keep trails open and maintained.