Find your ride in this roundup of annual cycling events and races.
Ready to test your mettle while pedaling through some of the most varied scenery in the state? Southern Oregon is home to several long-standing annual rides and races, including the spectacular autumn ride in Crater Lake Ride the Rim (September 9 & 16, 2023), which brings up to 5,000 cyclists to enjoy the crater's rim without motor vehicles. Whether you prefer heart-pumping elevation gain, twisty gravel or road touring, read on to find your event.
Spring Into the Racing Season
Part of Medford's long-running annual Pear Blossom Festival in April, the Pedals 'n Pears Bike Ride offers four different rides, from the flat and family-friendly Comice Ride (a 4-mile route along the Bear Creek Greenway) to the Royal Riviera Metric Century, a challenging 62-mile route that winds through the Applegate Valley and South Medford pear orchards. All rides begin and end at the Bear Creek Greenway. Come for the ride; stay for the parade, live music and other festivities.
Hit Your Summer Stride
For scenic cycling on gravel and asphalt, as well as craft beer and live music, check out the Tour de Outback in Lake County, held in June. All routes begin in the tiny ranching community of Adel, east of Lakeview. Choose from three rides on paved roads ranging from 35 to 78 miles, the longest of which stretches out past Plush to the base of Hart Mountain. The two gravel routes head south, climbing toward views of Drake Peak, Crane Mountain and Bidwell Mountain, and kissing the border with California and Nevada before returning to Adel.
The Takelma Gravel Grinder might be the only race in the world that begins at a casino. The short tour through — yes, through — Seven Feathers Casino Resort in Canyonville is the easiest part of the race, which race creator Harold Phillips describes as moderate to extreme. Test yourself with the 57-mile Bold Route or the milder 30-mile out-and-back Decaf Route. Both follow the Tiller Trail Highway along the scenic Umpqua River before climbing gravel logging roads. Enjoy music, food and brews at the casino after the ride. The Takelma Gravel Grinder is part of Mudslinger's Oregon Triple Crown Series, a series of five gravel races held May through July.
Headquartered in the town of Powers, the Tour de Fronds, held annually in June, offers six scenic rides ranging from 30 to 101 miles on low-traffic roads in the Glendale-Powers Bicycle Recreation Area. Pedal through a lush landscape of forests, mountains, streams and waterfalls, and share a generous meal with fellow cyclists after your ride.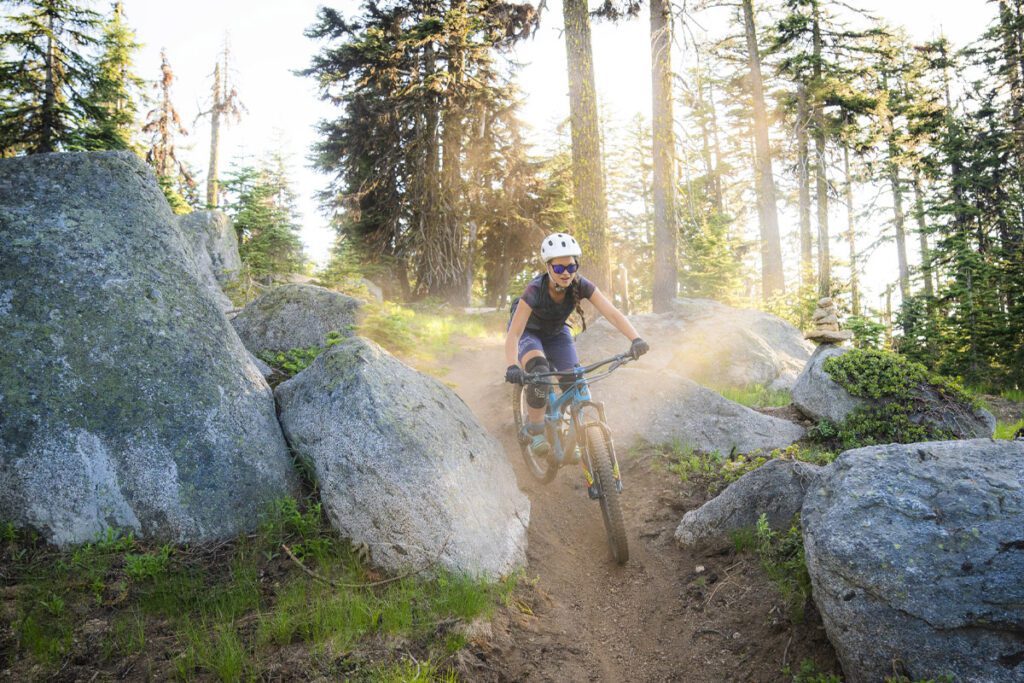 Race Into Autumn
For a pleasant early September cycle through some of the Umpqua Valley's most picturesque small towns, choose a route on the Vineyard Tour based on your experience level, from 16 to 100 miles. Visit the area's wineries and breweries as part of a full slate of rides and meet-ups held over the long Labor Day weekend, including a morning coffee ride with a friendly, social feel, organized by the Umpqua Velo Club.
Experience Crater Lake National Park, with its deep sapphire lake nestled in the southern Cascades, on two wheels. For two Saturdays in September, a 25-mile route along the lake's rim is closed to vehicle traffic for Ride the Rim, allowing cyclists, runners and walkers to safely enjoy the road in stunning fall weather. On both Saturdays, a 25-mile route along East Rim Drive is closed to vehicles from 8:00 a.m. to 6:00 p.m.. Hardy cyclists and runners can complete the entire 33-mile loop. The route includes several inclines and declines, with 3,500 feet of net elevation gain. The altitude (over 5,000 feet) can be a factor if you're not used to it, so plan accordingly. Early registration is a must; the ride is free, but you must pay to enter the park.
The routes for September's Ride the Rogue wind along the namesake Rogue River, past vineyards and rolling foothills, and through the historic town of Gold Hill. With 19.6-, 37- and 67-mile options, this beloved ride accommodates riders of all levels. The two longer routes weave through farmlands and past a historic covered bridge in Wimer. All rides start and finish at Palmerton Park in the town of Rogue River, where a post-race celebration with local cuisine and live music awaits. Proceeds support the Rogue River Recreational Corridor and Greenway project to create a 30-mile multiuse path between Grants Pass and Central Point.
The Ashland Mountain Challenge in late September — part of the challenging California Enduro Series of independent mountain bike races — is a favorite among competitive racers. Skilled riders explore the trails and test their stamina on the east and west flanks of "Mt. A," a favorite playground for local mountain bikers.