Make tracks in fresh snow in Jackson and Klamath counties.
I'm no adrenaline junkie, but I love the monochromatic beauty of winter landscapes — just me and a few friends, my dog, and the swoosh-swoosh of our skis cutting track through fresh powder. If winter solitude in the backwoods is your thing, there are plenty of alternatives to busier Mt. Ashland that offer phenomenal views and peaceful settings. Here are a few great trails to start with.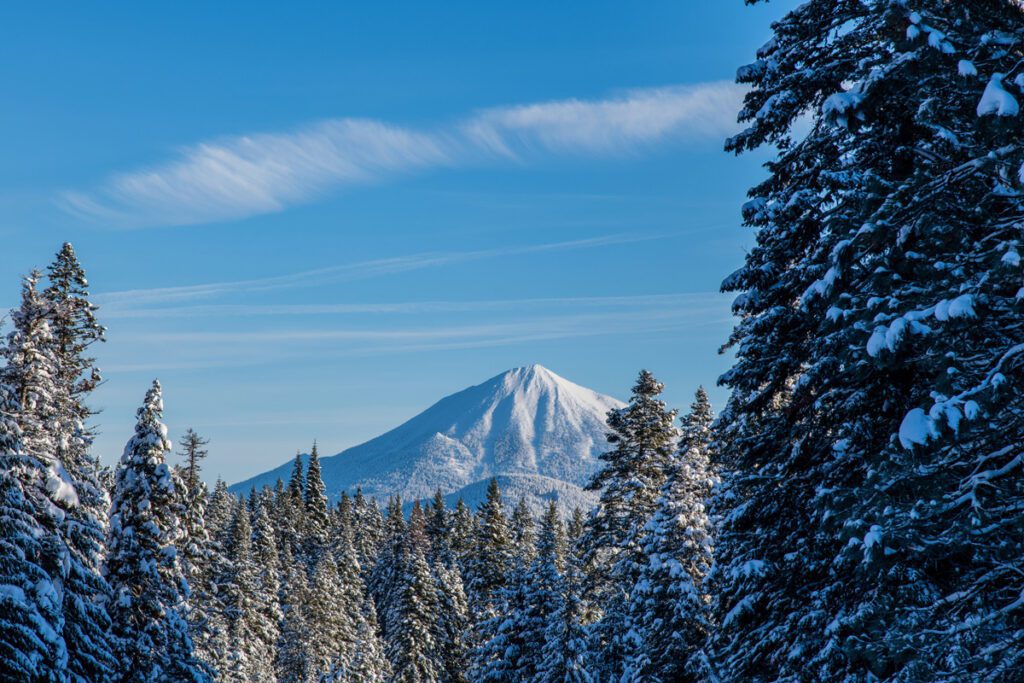 Mountain Vistas in Jackson County
For Hyatt Lake Recreation Area, about 22 miles east of Ashland, the Southern Oregon Nordic Club presents several options. You can ski through the campground or to the boat ramp and back, or take the main trail, which begins at the lake's main campground. On a cold sunny day, ski the groomed trail to Wildcat campground (about 2 miles), then drop down to the lake and hug the shoreline back. You'll be enchanted by the snow glittering on the lake bed and Mt. McLouglin rising in the background. Dress for wind chill! You don't need a Sno-Park pass and leashed dogs are allowed — be sure to pack out all pet waste.
At Buck Prairie Sno-Park, 16 miles east of Ashland, Buck Prairie Nordic Trail System boasts 32 miles of well-marked trails. As you can see on this map, the trails cut across open meadows and through the forest. Beginners can start at the trailhead and take the first wide, flat mile of Natasha's Web. If you're more ambitious, ski all the way to the Table Mountain Winter Play Area and back — a 9.6-mile loop. Dogs are not allowed at this Sno-Park.
Commune with the trees at Deadwood Sno-Park, 22 miles east of Ashland. Cross the road from the parking area and ski up Forest Road 37 past towering conifers. Go out and back, or work in a short loop by turning right just after the cattle guard. Take caution as trails are not well marked. Or ski Moon Prairie, the large meadow just south and across the road from the Sno-Park. It's truly lovely by moonlight. Dogs are allowed, but keep them close, as the trail is shared with snowmobiles.
The Lollipop Nordic Ski Trail System at Fish Lake offers nearly 7 miles of trails with a variety of options and peekaboo views of Brown Mountain and Mt. McLoughlin. Start your outing from the Fish Lake Sno-Park, about 40 miles west of Klamath Falls or east of Medford. From the trailhead, skirt the eastern edge of Fish Lake before a gentle ascent. From there go clockwise on the main Lollipop loop for more views. No pups are allowed on these trails.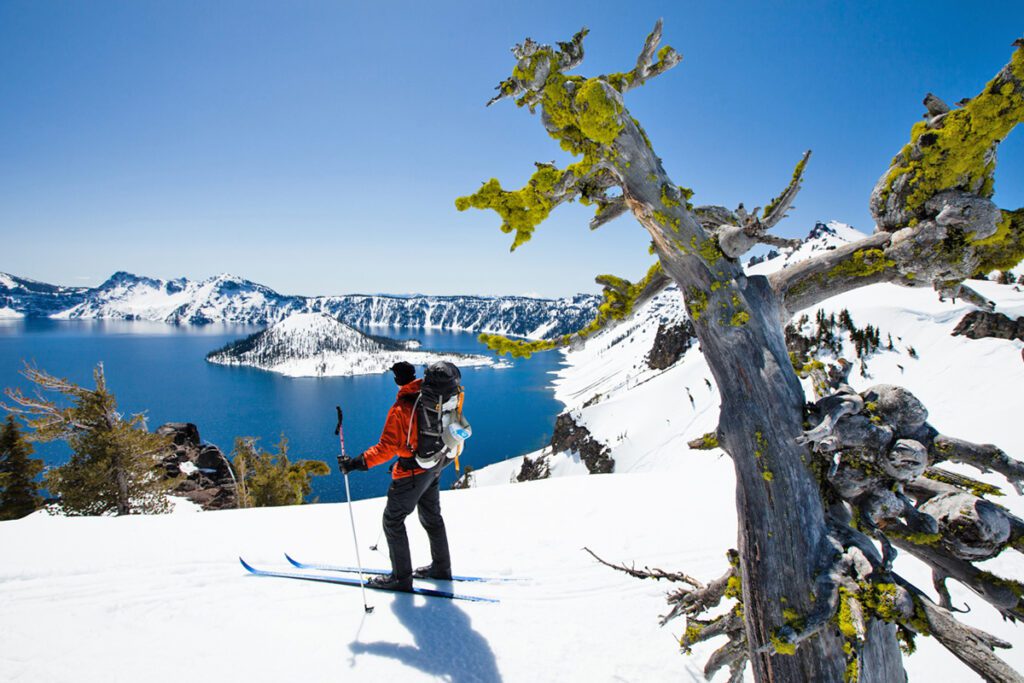 Amazing Lake Views in Klamath County
There are several Sno-Parks in the vicinity of Lake of the Woods, beloved in every season for its idyllic beauty and plethora of recreation opportunities. From Summit Sno-Park, just 40 miles west of Klamath Falls, you can glide through a classic high-Cascades forest to access the Pacific Crest Trail. This park is reserved exclusively for skiers and snowshoers.
Start your outing with a killer view of Mt. McLouglin at the Great Meadows Sno-Park, just 35 miles west of Klamath Falls on Highway 140, or make Lake of the Woods Resort your headquarters for an easy loop or an out-and-back along the lakeshore to Sunset Campground. These family-friendly trails are often groomed.
Still another option is the Pederson Sno-Park, just 10 miles west of the lake. From there you can ski north on the Pacific Crest Trail to the lava-strewn Brown Mountain, pausing at the ski shelter midway.
Crater Lake National Park receives a whopping 44 feet of snow in an average year, and what could be better than skiing the lake's rim under a robin's-egg sky? Most people start on West Rim Drive. It isn't groomed, but other skiers will likely have cut track for you on this popular route. The more adventurous may ski the entire rim — 30 miles in all — snow camping along the way. Check the park's website for their pet policies.
If You Go: