The Rogue starts just north of Crater Lake, then flows more than 200 miles before meeting up with the Pacific Ocean in Gold Beach. It offers an amazing wilderness trip with waterfalls, sandy beaches and lots of wildlife.The Klamath River begins near Klamath Falls in a remote and rugged canyon before running down into California. The flow is controlled by dams, so rafting companies can ensure a high-water adventure all summer long on a river known for continuous Class III and above big-water rapids.
Every rafting trip starts with your guide teaching a few safety basics such as wearing your personal flotation device, never standing up in fast-moving water, and holding the handle of your paddle correctly so you don't whack a comrade in the face. Pay attention and you'll have a good, safe time. Here are several of Southern Oregon's top rafting outfitters for your trip-planning inspiration.
Rogue River
In business since 1969, Orange Torpedo offers full- and half-day trips ranging from a gentle sunset tour to a four-hour excursion focusing on the river's largest commercially rafted rapids. The company also has two- to four-day trips out of Merlin that combine rafting with kayaking, hiking and camping. Contact Orange Torpedo to learn about special trips on its modified raft for wheelchair users.
Morrisons Rogue Wilderness Adventures focuses on what it calls the "recreation stretch" of the Rogue, with moderate Class II to Class III rapids interspersed with calm pools. In addition to joining a group on a raft, participants can also choose to brave the rapids in one-person inflatable kayaks. The company's multiday trips out of Merlin offer an option of camping or staying in riverside lodges.
For those comfortable without a guide, Raft the Rogue lets you navigate Class I and II rapids of the upper Rogue on your own. You can even bring your dog (consider investing in a canine PFD). The company drives you 11 miles from its parking lot in Shady Cove, then you float back down. Ice chest and water guns are provided.
OARS Rogue River Rafting out of Grants Pass is a big outfit that guides trips nationally and internationally. It's been guiding rafting trips on the Rogue since 1969 and offers multiday adventures. You can opt for an all-rafting adventure or combine rafting with hiking.
Rogue Rafting Company's most popular half-day trip out of Gold Hill starts 10 miles north of Medford and promises 7 miles of beautiful scenery and exciting rapids. Multiday river trips offer camping and lodging options, both of which include gourmet meals. The daylong Zip, Dip and Sip tour combines zip-lining, rafting and wine tasting.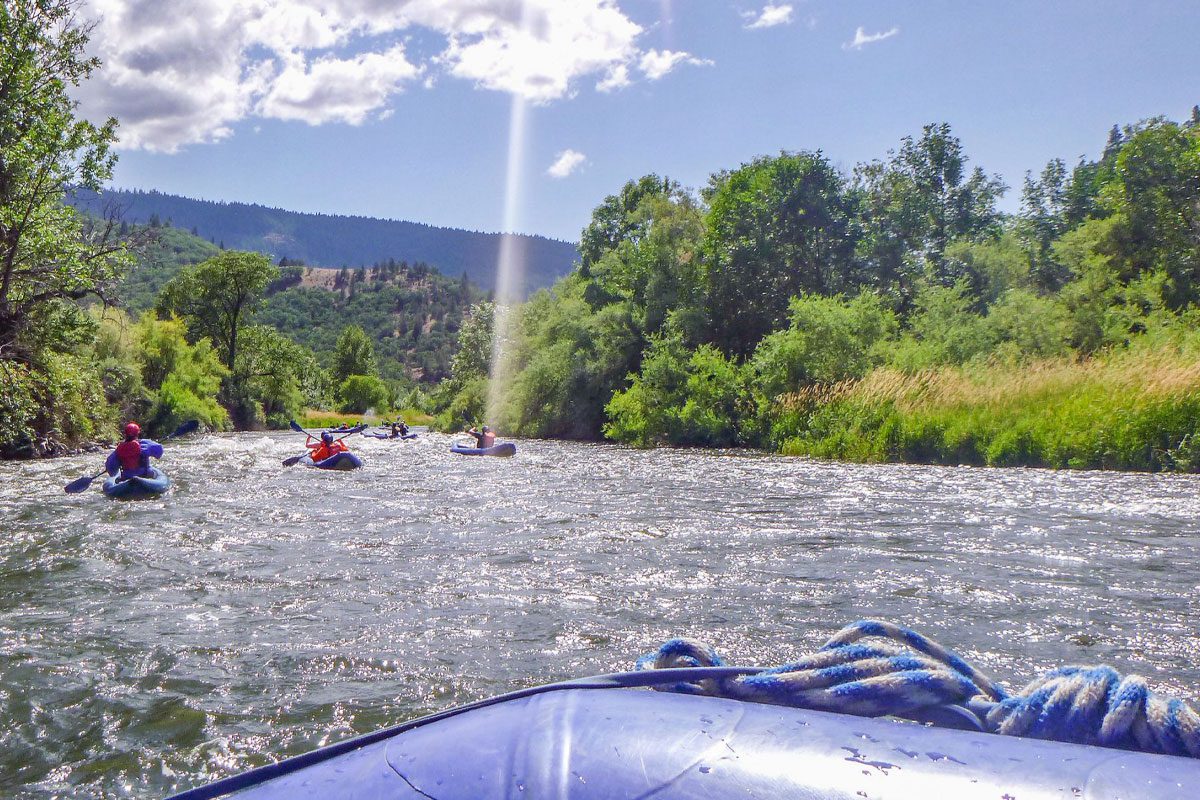 Upper Klamath River
A family-run company, Indigo Creek Outfitters out of Phoenix offers slower-paced half-day trips on the Upper Klamath River suitable for children and beginning rafters, as well as thrilling full-day runs of nonstop big rapids. Longer trips range from two to five days, with some offering the chance to pair rafting with wine or craft-beer tasting.
A small, guide-owned company, Momentum River Expeditions' most popular day trip out of Ashland features more than 30 Class III to Class IV+ rapids on the Upper Klamath. Or choose a two- or three-day multisport rafting safari combining fly-fishing, hiking, mountain biking, inflatable kayaking and glamping.
Story by Teresa Bergen