You'll find all that and more on the Rocky Point Canoe Trail in Southern Oregon. Wind your way through this scenic freshwater marsh and listen to the songs of nesting water birds as you welcome this season of sunshine.
Located just northwest of the town of Klamath Falls on Upper Klamath Lake, the Rocky Point Canoe Trail offers an immersion into the dramatic natural beauty of the region. The lake is tucked into the 23,098-acre/9,347-hectare Upper Klamath National Wildlife Refuge on the east side of the Cascade Mountains, and features a landscape of open water, freshwater marsh and 30 acres/12 hectares of towering Douglas fir and Ponderosa pine forest. This rich habitat is home to more than 350 species of birds and other wild creatures.
Accessed from the northwest side of the 25-mile/40-kilometer long lake, the easy, self-guided, 9.5-mile route is divided into four marked segments: Recreation Creek, Crystal Creek, Wocus Cut (for non-motorized use only) and Malone Springs. The Rocky Point Canoe Trail is a tranquil escape into the refuge and can be enjoyed by canoe, rowboat, SUP or kayak.
As part of the Klamath Basin Birding Trail, the paddling route is a delight for bird lovers and wildlife watchers. In spring and summer, visitors can observe nesting American white pelican, osprey, bald eagle, heron and many other species of waterfowl. Boaters can spot bright belted kingfisher, flashy pileated woodpeckers and lively olive-sided flycatchers among other resident birds. Springtime is the season to witness the unique courtship dance of Western and Clark's grebes. During fall migration, as many as 2 million birds pass through the refuge along the Pacific Flyway, and in winter the lake provides a feeding ground for scores of bald eagles.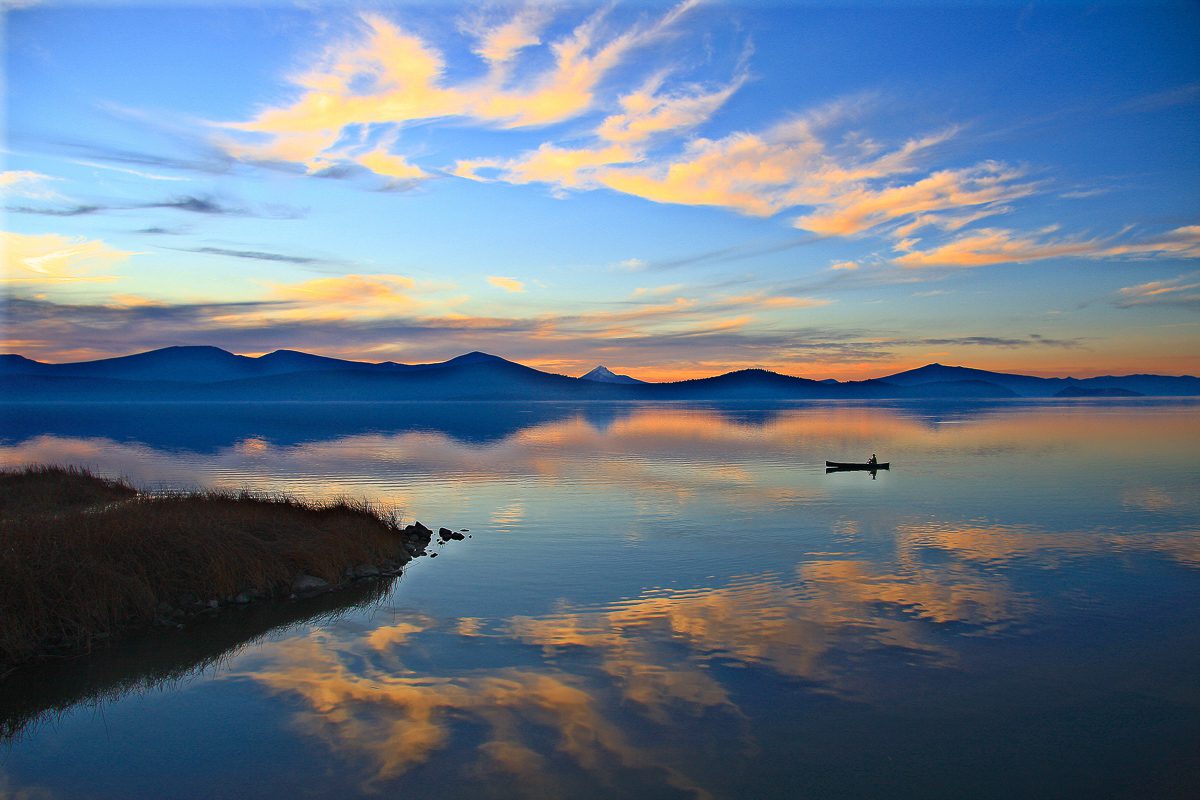 To get to the Rocky Point Canoe Trail put-in, head west on OR-140 for 25 miles/40 kilometers to Rocky Point Road and follow signs to the Rocky Point boat launch or the Malone Springs boat launch. The marina at Rocky Point Resort rents canoes, rowboats, kayaks and SUPs, and the resort also has a restaurant and cabins for rent. The Rocky Point Canoe Trail is for day use only. Visitors are asked to leave no trace and to follow state of Oregon State Marine Board regulations.
Other Local Activities: Don't miss the Crater Lake Zipline, which is located just 4 miles/6.4 kilometers south of the canoe trail put-in. Fly through the forest canopy and across two skybridges along nine thrilling ziplines. Play a round at Running Y Ranch Resort, an Arnold Palmer-designed course and one of Southern Oregon's premier golf resorts.