Oregon Caves National Monument (Photo by Christian Heeb / Travel Oregon)
Located in Josephine County about 45 minutes southeast of Cave Junction, the big attraction here is underground: a complex of strange and wondrous marble cathedrals and passageways, all sculpted from seeping groundwater. The River Styx, the only underground stream officially designated as a Wild and Scenic River, begins above the cave entrance as Cave Creek before plunging underground. For half a mile, it flows inside ancient marble bedrock before emerging back into the light.
The park hosts four cave tours, including one by candlelight and one kid- and family-friendly tour. The intrepid can consider a three-hour off-trail adventure; expect to belly crawl, squeeze and scramble, with nothing but a headlamp to light your way. Even in normal times, tours are limited to warmer months, but all were canceled in 2021 because of COVID-19. Check the park's website for the most up-to-date information.
Six hiking trails weave in and out of the officially designated monument through dense, lush forests, along Cave Creek and past mossy marble outcroppings. The Big Tree Loop leads to the largest-diameter Douglas fir tree in the state.
---
OPEN YEAR ROUND? Yes, but visitor-center hours and cave tours are limited to certain days/months/seasons. Check ahead before making plans.
ENTRY FEE: None, but there are fees for all of the cave tours.
LODGING ON-SITE? No. The Oregon Caves Chateau is closed temporarily for renovations. Camping is available 4 miles from the park.
Lava Beds National Monument (Photo courtesy of NPS)
Lava Beds National Monument is located in both Siskiyou and Modoc counties' rugged desert country. A caver's delight, the landscape was sculpted by a series of volcanic eruptions. A labyrinth of caves formed as lava cooled and solidified, forming tubes that eventually cracked and collapsed. You can access most of the developed caves, which are classified according to their level of difficulty, via the Cave Loop, a 2-mile road near the visitor center.
Lava Beds also contains a rich record of human habitation over the last 10,000 years. Petroglyph Point, once an island in ancient Tule Lake, is adorned with over 5,000 individual carvings – one of the greatest concentrations of Native American rock art in California.
Be aware that parts of the monument may be closed due to wildfires, and access to some of the caves may be limited during certain seasons to protect the bats. The park also asks cavers to follow screening procedures to help prevent white-nose syndrome, a disease that has devastated bat populations. Check the website for the most up-to-date information.
---
OPEN YEAR ROUND? Yes. Visitor-center hours: daily, 10:00 a.m. to 4:00 p.m.
ENTRY FEE: $25 per vehicle.
LODGING ON-SITE? Yes (camping only).
Snowshoe tour at Crater Lake National Park (Photo courtesy of NPS)
The deepest, the bluest, the cleanest…Crater Lake is all of these things, but descriptors don't do justice to the experience of staring into the lake's sapphire depths. Tucked into the Cascade Crest and fed by rain and snowmelt, Crater Lake has beguiled humans for 7,700 years. A drive or bicycle ride along Rim Drive presents ample opportunities for lake gazing at the many viewpoints, but there are plenty of other things to do. A boat tour of the lake or shuttle to Wizard Island is a must in summer. The park also offers interesting programs in the warmer months and ranger-guided snowshoe hikes in winter. You can camp in a developed campground or in the backcountry, or for more leisurely accommodations, dine and stay overnight at the Crater Lake Lodge, a stone and timber structure perched near the lake's edge at Rim Village. Be warned: Snow piles high October through May, and access to the park is limited. Be sure to check the website for closures.
---
OPEN YEAR ROUND? Yes, but access is limited in winter, when North Entrance Road, Pinnacles Drive and Rim Drive are closed.
ENTRY FEE: $30 per vehicle in summer; $20 per vehicle in winter.
LODGING ON-SITE? Yes (camping, cabins, lodge).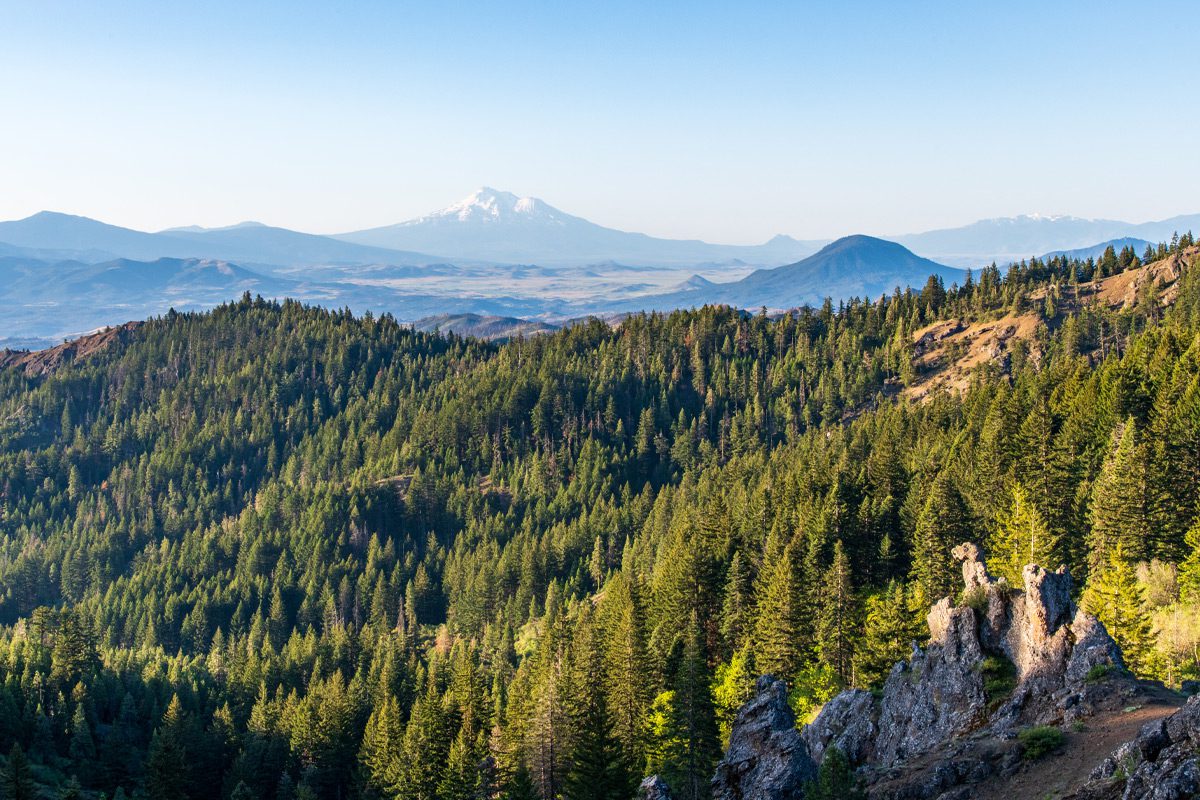 Cascade-Siskiyou National Monument (Photo courtesy of Kyle Sullivan / Bureau of Land Management)
Named in 2000, the Cascade-Siskiyou National Monument is just a half-hour east of Ashland. The confluence of the Cascade, Klamath and Siskiyou mountains has enabled a mosaic of ecosystems across 114,000 acres, including fir forests, oak woodlands, scarps and chiseled creek canyons. It's the only national monument designated for its outstanding biological diversity, and it is home to Pacific fishers, great gray owls and over 100 species of butterflies, some of which are found nowhere else. One of the best ways to experience these landscapes is on foot. The Pacific Crest Trail threads through the monument, inviting the hiker to pause for outstanding views near Pilot Rock, atop Hobart Bluff and along the southwest flank of Green Springs Mountain. Friends of Cascade-Siskiyou National Monument hosts hikes and other events, including an annual BioBlitz, where citizen scientists hunt for bees, butterflies and amphibians.
Accommodations are limited, but the Green Springs Inn and Hyatt Lake Resort offer lodging and dining. There are several developed and primitive campgrounds within the monument, as well.
---
OPEN YEAR ROUND? Yes, but roads can be snowy in winter, and access on less traveled roads may be limited.
ENTRY FEE: None.
LODGING ON-SITE? Yes (camping and privately owned lodges and resorts).
Story by Juliet Grable