by Michelle Kehm
If you haven't heard of the Modoc War, one of the last and most epic Native American battles in the country, now's your chance — literally. Just download the free Modoc War Audio Tour onto your phone or tablet and enjoy the 60-mile narrated drive from Klamath Falls down to northern California. It's a guided, information-packed journey filled with historical sites and intriguing facts, so buckle up.
Along the scenic drive from Klamath Falls across the California border to Lava Beds National Monument, you'll pass sagebrush-riddled prairies, tasty roadside eateries and horizon that stretches in every direction. In a word: The landscape is peaceful — but it wasn't always that way.

Photo: Kamrin Nielsen
For the six months between November 29, 1872 and June 1, 1873, this area was ground zero for the turbulent Modoc War. The story behind the war is as complicated as it is confusing, so it's just about perfect that the narrator of the tour is Modoc descendent Cheewa James. As the great-granddaughter of the Modoc warrior Shkeitko (better known as Shacknasty Jim, a key player in the war), James' insider knowledge brings the events to life in a way you'll never forget.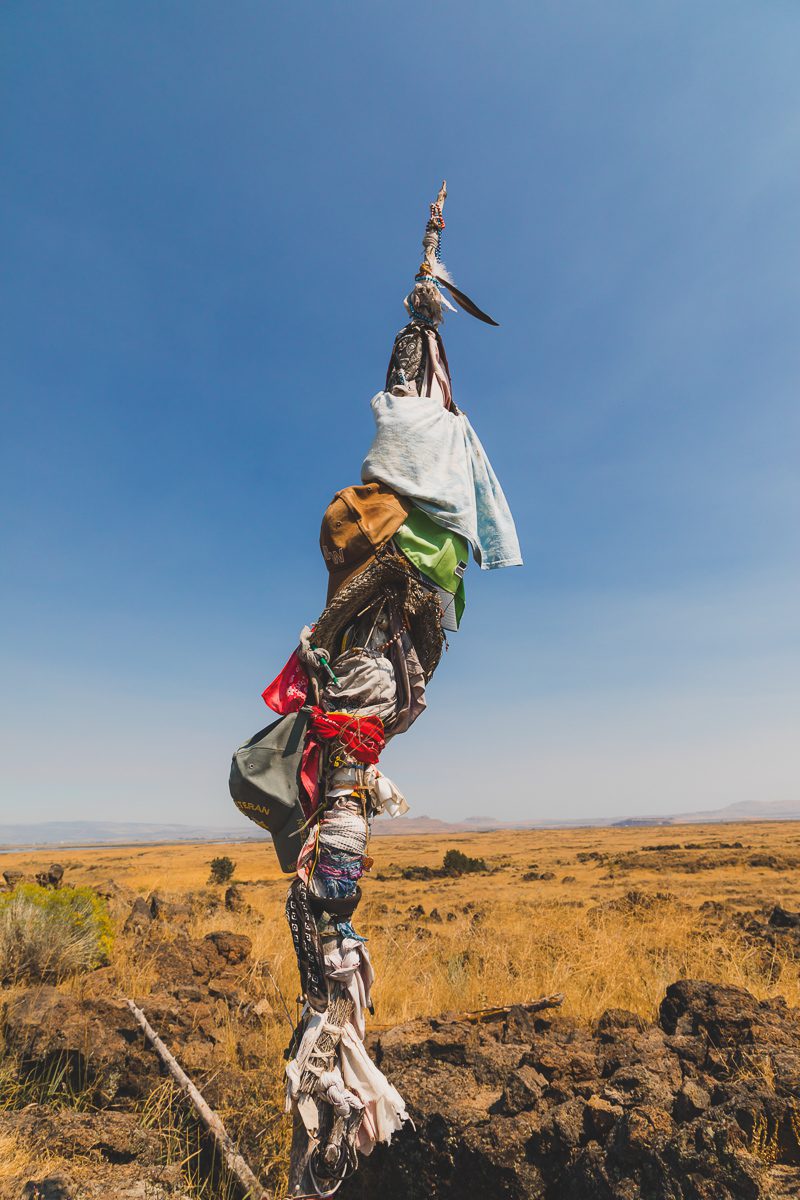 Photo: Kamrin Nielsen
Along the approximately two-hour journey, you'll discover the roots of the Modoc War and hear narrated versions of both Modoc and settler stories. You'll also pass through the charming towns of Merrill and Malin in Klamath County, and explore a treasure-trove of archeological wonders just a bit further south, including Petroglyph Point, Captain Jack's Stronghold and Lava Beds National Monument.
Strongholds and razor-sharp lava battlefields aside, perhaps one of the most riveting takeaways of the audio journey is James' personal insights into a history that she's inherently linked to.
"Whether the Modoc War had to happen at all, and until what point it could have been stopped, is a question I have long asked myself – and one that I encourage you to ask as we journey together…through the once-bloody heart of Modoc Territory," she narrates. This question begs for discussion over homemade tamales at Tacos a la Mexicana in Merrill at the end of the tour. The frontier-style Wild Goose Lodge is another Merrill favorite if you'd like to stay the night and explore the nearby Lava Beds National Monument.
How to use the app
Download the free Modoc War Audio Tour onto your phone or tablet before you start your driving journey. The tour begins in front of the Klamath County Museum in Klamath Falls — simply press play and James' voice will guide you, turn by turn, for the length of the trip (the prompts are GPS-triggered.) If you venture off the path for a bite to eat, simply press pause and then resume when you're back on track.