This holiday season, consider giving the gift of Southern Oregon – a gift that supports local businesses and imbues each glass, meal and journey with a sense of place that will make their next trip that much more special.
Shopping Districts in Southern Oregon
More than individual districts, Southern Oregon is known for charming communities that cater to discerning shoppers. Jacksonville is home to a historic downtown core packed with tasting rooms, boutiques and adorable lodgings. In the heart of the Umpqua Valley, Roseburg teems with a small-town mix of antique shops, boutiques and expansive shopping centers. Medford, flanked by rolling hillsides in the Rogue Valley, treats culinary-minded travelers with popular wines and small-batch cheeses and chocolates. The chic community of Ashland enchants with a walkable downtown core brimming with restaurants, shops and other community gathering spaces. Many businesses offer online shopping and gift certificates when in-person shopping is not possible.
Staying safe during COVID-19: New COVID-19 guidelines by the Oregon Health Authority make shopping in person safe, giving you peace of mind. During the two-week statewide freeze, retail stores are limited to a maximum of 75% capacity. If you'd rather not shop in person, many stores offer online shopping and curbside pickup. Remember to wear a face covering indoors and outdoors when physical distancing isn't possible (it's required), and pay attention to signs that may indicate direction of traffic.
Home Gifts in Southern Oregon
Whether your friends and family live in the kitchen or strive for comfort, Southern Oregon has 'em covered. The chef on your list will love a piece of specialty kitchenware from The Kitchen Sink in Roseburg, while bookworms adore the nearby While Away Books and Espresso, which houses more than 60,000 used titles alongside a full espresso bar. In the heart of Klamath Falls, Blonde Pineapple features classic farmhouse decor, home goods and a DIY workspace. At Pretty in Paint in Medford, you can spruce up the homefront with sweet seasonal decor. Pico's Worldwide in Jacksonville is full of eco-friendly, fair-trade housewares, from towels and oven mitts to air diffusers and adorable food-storage solutions. Now that you're spending more time at home, fun accents from Paddington Station in Ashland are a great way to add some cheer to your space.
Discover more Oregon-made products online with Built Oregon Marketplace, a new directory celebrating the state's maker culture.
Clothes and Designs in Southern Oregon
Local brands and fashionable labels come together at small-town boutiques throughout Southern Oregon. In Ashland Mountain Provisions stocks a variety of local and national outdoor brands – including the Ashland-based Flow Factory NW, which produces a mix of colorful, stylish and durable trucker hats. Farther north, Tierra del Sol specializes in clothing, fabrics, jewelry and more from women designers in Grants Pass. The Cotton Broker, meanwhile, showcases natural fibers and garments made in the United States (including scarves, sweaters, jewelry, accessories and more) in downtown Jacksonville. And in Klamath Falls, Bloom & Flourish Boutique curates a selection of cozy tops and athleisure wear.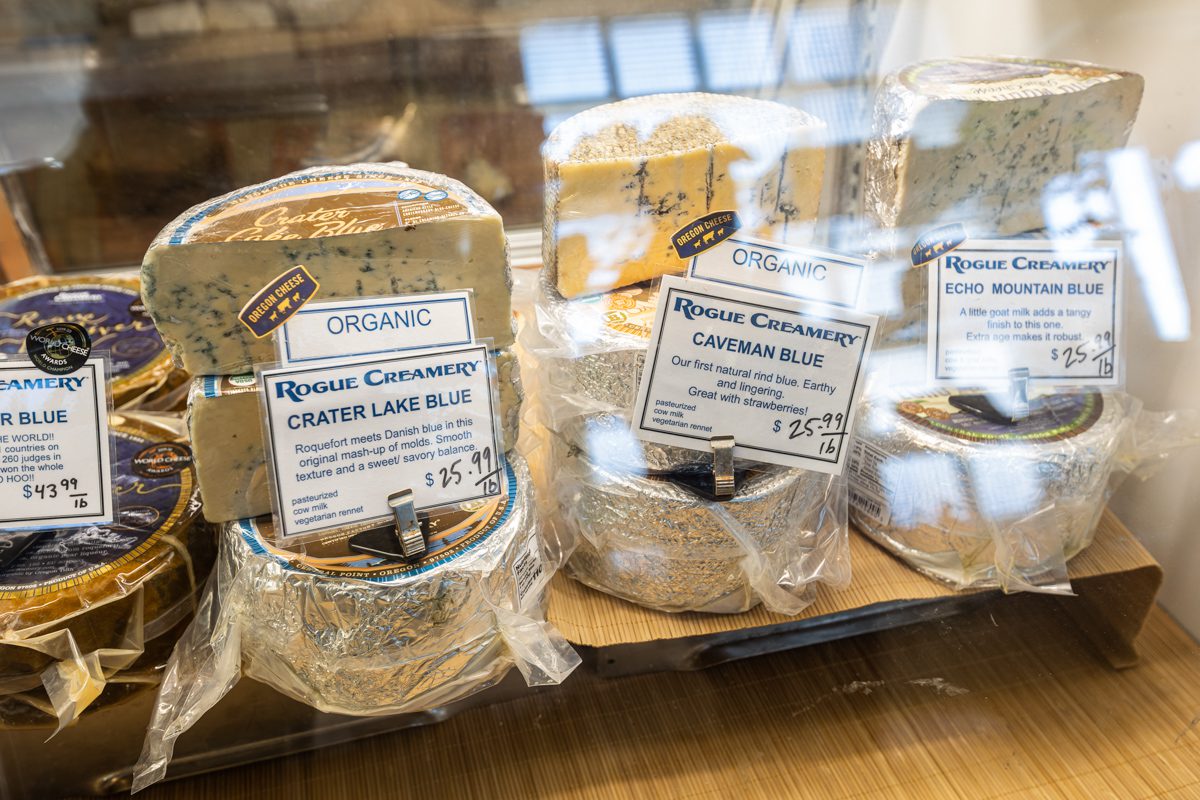 Food and Drink in Southern Oregon
Fertile farmland has given way to growers all over Southern Oregon: pear orchards in the Rogue Valley, olives growing along the Umpqua River and esteemed wineries in both the Rogue and Umpqua regions as well as the Applegate Valley. But even when the goods aren't grown here, creative chefs all over the region have earned acclaim for crafting memorable recipes.
If giving the gift of wine, consider a bottle from Roseburg's Delfino Vineyards, noted for its award-winning tempranillo and a crisp riesling. Nearby River Ranch Oregon Olive Oil specializes in estate-grown extra-virgin olive oil. In Ashland a crowd-pleasing gift certificate option is Northwest Pizza, which has earned raves for its creative pies and chicken wings slathered in the extra-spicy "Angry Sauce." Medford's Harry & David shares the many flavors of the Rogue Valley including gourmet food, fine wine and its Moose Munch premium popcorn – all of which can be wrapped into a custom gift basket. For the person who has everything, give a gift card for a future bucket-list dinner at the audacious Cowboy Dinner Tree in the Oregon Outback. The Old West-inspired restaurant's preset menu centers around a massive top sirloin steak or whole roasted chicken, served with all the hearty fixins.
For the best Oregon wine deals, check out The Giving Season through Dec. 31, 2020.
Experiences in Southern Oregon
Southern Oregon is known for its experiences, both manmade and natural, and getting a gift certificate for these memory-making excursions goes a long way toward supporting the region's local businesses. The world-renowned Oregon Shakespeare Festival, for instance, puts on roughly a dozen productions per year in three theaters (including the regal outdoor Allen Elizabethan Theatre).
The Wild and Scenic Rogue River is another marquee attraction, and two companies explore its churning depths via jet-boat rides. Tours on Rogue Jet Boat Adventures include wildlife viewing and up-close views of the Table Rocks, while Hellgate Jetboat Excursions boasts scenic and whitewater trips in the heart of Hellgate Canyon. For a paddle-powered thrill ride, face the Rogue River's legendary rapids with a rafting trip from Orange Torpedo Trips in Merlin, which offers everything from half-day outings to four-day adventures. Adrenaline junkies on your list will love a future trip to Crater Lake ZipLine, which offers nine zip lines, two sky bridges and two controlled rappels up to 100 feet off the ground. For a more laid-back experience, consider a gift certificate to Summer Lake Hot Springs, whose healing mineral springs have been flowing for thousands of years.
Hotels in Southern Oregon
Everyone loves getting the gift of a good night's sleep, so consider a gift certificate to one of Southern Oregon's local lodgings. The pet-friendly Riverfront Inn in Roseburg hosts a seasonal outdoor pool – a calm respite after a day of chasing waterfalls along the Rogue-Umpqua Scenic Byway. In Grants Pass, most rooms at The Lodge at Riverside include private patios or balconies alongside the Rogue River. Mere steps from Ashland's shops and cultural stops, the 70-room Ashland Springs Hotel is a historic downtown landmark – a must for stylish travelers enchanted by near-century-old lodgings. For the avid bird-watcher, the Lodge at Summer Lake offers rooms and cabins along the Pacific Flyway migratory bird route. History buffs, meanwhile, love the exposed-brick walls of the Jacksonville Inn, constructed in 1861 at the height of Jacksonville's gold-rush boom. And in Klamath Falls, golfers adore the Running Y Ranch Resort, home to the only Arnold Palmer Signature golf course in Oregon. For a summer vacation near Crater Lake, consider a stay at the charmingly rustic Union Creek Resort. Find great hotel deals in Oregon at Expedia and Travel Southern Oregon.