Head southwest along the Rogue River for hikes, waterfalls and great fishing.
While Crater Lake National Park may be your main destination for vacation, the journey's half the fun. For travelers coming from Medford or Grants Pass, the winding route along the upper Rogue River offers adventures along the way, with the communities of Prospect, Trail and Shady Cove serving as gateways to fishing, boating and hiking to waterfalls, wilderness and mountain vistas in the Rogue River-Siskiyou National Forest.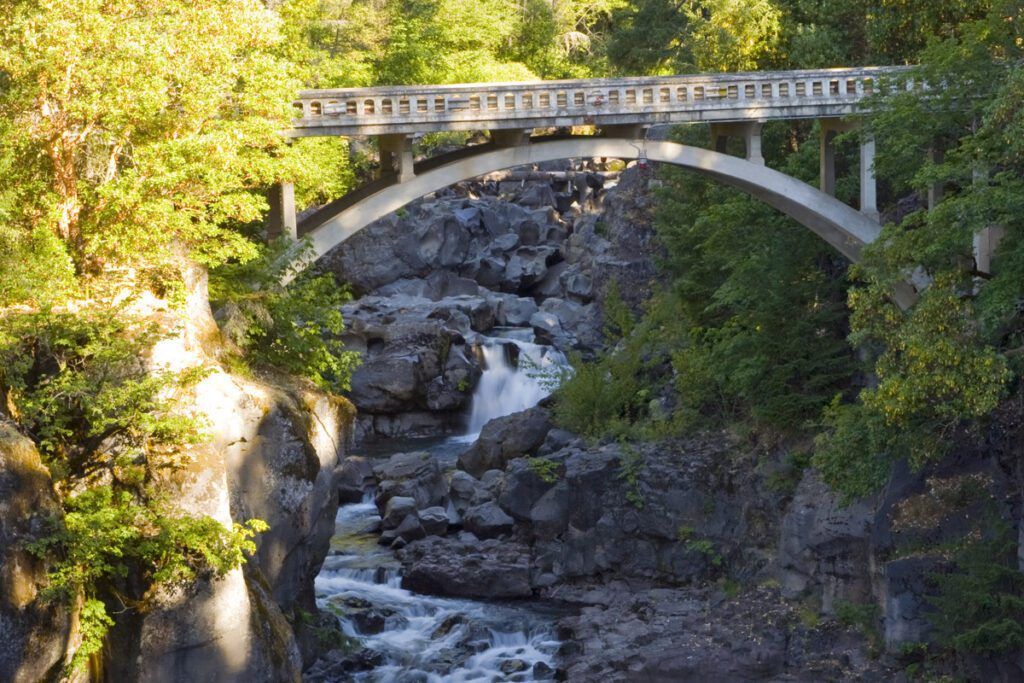 Hikes to Basalt Tubes and Waterfalls
Don't miss the waterfalls on Highway 62. One option is a 3.5-mile hike (one-way) from the Natural Bridge to the Rogue Gorge just south of Union Creek Resort. View the Rogue River cascading through basalt lava tubes while you enjoy cooling breezes in the forest. Day-use areas feature accessible parking and paved paths to viewpoints.
For a shorter hike, visit Prospect State Scenic Viewpoint, where, in less than half a mile, you can view Mill Creek, Barr Creek Falls and the Avenue of Giant Boulders, which kids love for a good climb. Head into Prospect — less than a quarter of a mile away — where you can make a quarter-mile hike to Pearsoney Falls. Another quick waterfall hike is National Creek Falls, just a half a mile round-trip for an up-close, misty cascade experience.
As you head south along Highway 62, be sure to stop at Joseph Stewart County Park, which provides access to Lost Creek Lake Trail, an 18.6-mile hike that takes you around the whole lake with views of the Rogue River, waterfalls, volcanic lava fields and tons of wildflowers in the spring. Strolling across the Takelma Day-Use Area's footbridge will take you through meadows and one of the lake's seasonal waterfalls. Rent boats, pontoons and paddleboards for the day at the Joseph Stewart County Park Marina.
Fishing and Boating in the Rogue River
You can't visit Southern Oregon without getting some fishing in. Catch steelhead from summer through winter or salmon in spring and fall. Along Highway 62, there are many opportunities where you can just drop a line in from the shore, like Casey State Recreation Site — a favorite for fly-fishers. Drop your boat in at Rogue Elk County Park, McGregor Park and Upper Rogue Regional Park.
If you want to raft the Rogue River, Shady Cove has a variety of outfitters that offer rafts for rent and guided trips including Rapid Pleasure Rafting, Raft the Rogue and Raft Rite Rentals.
Enjoy Sweet Treats With the Kids
Don't miss out on two iconic spots on Highway 62. Beckie's Cafe at Union Creek Resort is even listed on the National Register of Historic Places. Built in 1926, it serves homestyle cooking all day long in a cozy cottage. Save room for a slice of its house-made pie — choose seasonal flavors like marionberry, huckleberry and fresh strawberry from the wooden board on the wall across from counter seating. Stop for an ice cream cone or a milkshake at beloved Phil's Frosty — look for the brightly painted pink building.
Places to Camp and Stay
For camping, Joseph Stewart County Park features watercraft rentals for the lake as well as hiking trails. Rogue Elk County Park campground has campsites in view of the Rogue River. Kids love to play in the creek on warm days. Union Creek campground, tucked into an old-growth forest, offers a spot for kids to fish off the bridge. Ask about nearby fishing spots.
If you are looking for cabins and lodges, Union Creek Resort is the closest to Crater Lake, offering rooms in its lodge and cozy private cabins with wood floors and rustic furniture for a mountain feel. Surrounded by old-growth forest, the Rogue River Gorge is within walking distance. About a half-hour away, the Prospect Historic Hotel in Prospect has several choices, including 10 different themed rooms with personal touches like handmade quilts and house-made breakfasts. Farther south, the Rogue River Lodge in Shady Cove no longer operates as a fishing lodge but does rent out a cozy riverside cabin complete with a deck overlooking the Rogue River. Built in 1937, it has been restored to its original charm that includes a kitchenette and sitting area with French doors to let in fresh river air.
Don't forget to download your Upper Rogue Recreation Map! It's also available at select locations in the Rogue Valley and at all official Travel Oregon Welcome Centers, the recreation map provides important safety tips, local-favorite spots, and makes a pretty nice souvenir of your time along the gorgeous Rogue River.
Top photo: Mill Creek by Jak Wonderly