If you have been to the Lava Beds National Monument, then you have most likely driven through Merrill; and if you haven't visited, then it's time for a road trip! Best known for its Potato Festival in October, Merrill is a cute little farming community that holds true to its small town roots.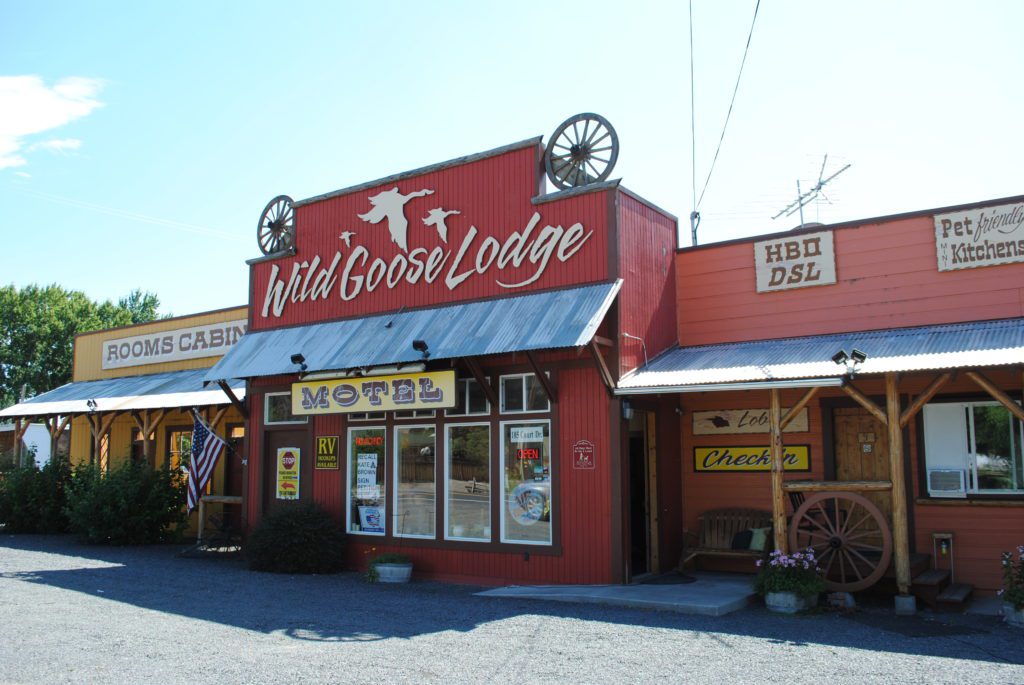 First, you will want to check-in to the Wild Goose Lodge Motel which is a piece of history itself. Dating back to 1946 it used to be a motor hotel that offered motorists an overnight place to stay. Holding true to its rustic beginnings it has been updated and offers rooms, cabins, and RV spots for visitors. There is also a recreation room, a courtyard with a fire pit, and bird cleaning station. Then it's time to get out exploring!
Start off you adventure by heading to Merrill City Hall which doubles as the Merrill Historical and Modoc Museum. Learn the city's history and dig in to details of the Modoc War. When you are done with your history lesson head out to visit the stone bridge where the Battle of Lost River, the first battle in the Modoc War, was fought between Captain Jack and the Modoc braves in 1872. If you would like to immerse yourself even more and get more details about the Modoc War see our earlier story Journey Through History with Modoc War Tour that takes you on audio tour of the events that lead up to the war and more.
After your visit to the stone bridge, you will want to jump back in your car and head to Malin to take a stroll back through history. Park your car and take a walk to enjoy the vintage architecture of the Broadway Theater (where they host movie nights and concerts on occasion), then visit Veteran's Park right at the center of downtown where murals and interpretive panels focusing on military moments of the area are, and finally head across the street to the Malin Museum that showcases the history of the area. If you have kids you can stop for a break at Malin City Park where they have Nature Trails to explore and a play structure to run out some of their energy!
About now your stomach will be growling so you will want to head back into Merrill to grab some lunch. Stop into Tacos a la Mexicana for some fantastic Mexican food (we suggest the Chimichanga, Pork Tacos, and Chile Relleno) and get it to go so you can picnic at Good Duck Park, a park dedicated to Carl Barks, creator of Donald Duck and Uncle Scrooge. There are picnic benches, a view of the Lost River, and interpretive panels informing you of the local flora and fauna.
When you've finished off your tacos continue your walk and stop into Tater Patch Quilts, showcasing local artisans beautiful handiwork. They host classes from beginner to advanced or just can pick out fabric to make your own creations!
Top off your trek about town with soft-serve or a milkshake at the retro vibe Polar Bear. They are the nicest people and you can get a picture of the famous Merrill water tower while you are enjoying your treat.
As the afternoon starts to wind down, hop into your car and stop into County Cork. Located in a 100 year old farmhouse, you can shop for gifts, home décor, and all things farmhouse chic. On occasion you can also attend private shopping events, holiday celebrations, and more; it's definitely worth your time to stop and say hi!
If you really want to experience the Merrill community you must visit when they host their Annual Klamath Basin Potato Festival. Enjoy two days of celebration with exhibits, a potato bake, the spud bowl, run, parade, lots of food, health fair, live music, beer garden, and more!
Merrill's big, small town heart will capture yours, so stop in and take the time to discover why!
---
Looking for more adventure near Merrill? Make sure to visit the Lava Beds National Monument
Other notable events through the year include: Tulelake-Butte Fair, and Lost River Bluegrass Festival
---
Special thank you to Kate of Farmhouse Designs for being my virtual tour guide of Merrill!