Cool crisp air, the scent of snow coming and a hot cup of coffee in your hand; just about perfect. Living in the PNW, the coffee culture is part of everyone's life and in Southern Oregon there is no lack of great locally owned coffee shops to choose from. Stop into these cozy coffee spots as you travel Southern Oregon!
ROGUE RIVER
TAILHOLT COFFEE CO
Found in the tiny town of Rogue River Tailholt Coffee Co. is a welcome surprise with friendly baristas, fantastic coffee (and chai), and the coziest little shop. Grab a guitar or jump on the organ if you please, it's the perfect little spot to bring a book or work remotely.
GRANTS PASS
DUTCH BROS COFFEE HOUSE
Known as a drive-thru coffee chain, visit Dutch Bros. only sit down establishment, in the town where they were born! Grab a coffee or Rebel and then checkout their merch area to take home a souvenir!
MILLER'S COFFEEHOUSE
Miller's Coffeehouse has a unique location that it is located in one of southern Oregon's oldest breweries Wild River Pub. Enjoy house brewed coffee and tasty pastries and if you are lucky house made glazed donuts!
ROGUE ROASTERS
Rogue Roasters prides themselves on sharing their organic, artisan roasted coffee. Enjoy a cup in their outdoor inspired space or you can drive-thru for a cup to go. Make sure to grab a bag of their house roasted beans so you can continue your enjoyment at home!
ROSEBURG AREA
THE ATOM BISTRO AND COFFE BAR IN GLIDE
Found in the tiny town of Glide, The Atom is a pleasant surprise to enjoy when you are travelling to your waterfall hiking adventures in the North Umpqua. Stop in for a cup of your favorite coffee and enjoy delicious breakfast and lunch choices while enjoying their chill, laid back vibe, while listening to vinyl!
GATHERING GROUNDS COFFEEHOUSE
Centrally located in downtown Roseburg, Gathering Grounds offers great coffee in a warm atmosphere. The baristas are friendly and chatty, and the dining area is a great place to hangout. In addition to their fair trade, organic coffee they offer an array of locally sourced hand made pastries, burritos, and salads for you to nosh!
MY COFFEE
A larger coffee house, My Coffee offers smoothies in addition to coffee and fresh baked goods to enjoy to help you jumpstart your morning. They also serve paninis, soups, and salads for lunch!
KLAMATH FALLS
BREVADA BREWHOUSE
A coffee house with a very cool start when three Oregon Tech graduates came together to build a community gathering place at the Brevada Brewhouse. It started out as a coffeehouse that now includes beer, wine, and cider, and their food menu includes build your own sandwiches, smoothie bowls, and more!
GATHERING GROUNDS CAFE & ROASTERY
Gathering Grounds Roastery sources their coffee that is sustainable and ethically grown. Enjoy sipping a cup in their downtown Klamath Falls café or soon to come Roasting Room!
LEAP OF TASTE
A Leap of Taste is a gourmet coffee shop with a fun vibe that serves not only coffee, but smoothies, baked goods, and scrumptious sandwiches, that are made from local and sustainable items as much as possible. They also support young adults through their on-the-job training that teaches "workplace ethics, healthy choices, community participation, and self-efficacy".
ASHLAND
CASE COFFEE ROASTERS
With two locations, Case Coffee brews up "ethically sourced, responsibly grown" coffee in their Ashland shops. Enjoy seasonal favorites, in addition to their regular menu and the most light and airy donuts if you get there early enough!
HTHER COFFEE & GOODS
Enjoy fragrant and delicious coffee paired with fantastic food, locally sourced from farms in the area at Hither Coffee & Goods. Everything used in their kitchen is sold on their larder shelves, including natural wines.
NOBLE COFFEE ROASTERS
Noble Coffee Roasters prides itself on not just serving coffee, but making it an experience. Their passion shows from start to finish, sourcing the "highest quality green coffees from organic farms and cooperatives, continuing in the crafting of the coffees with great attention upon roasting, and ending in the fine details of brewing". If you are feeling adventurous try out one of their chemex, siphon, or iced chemex brews to experience coffee in a whole new way!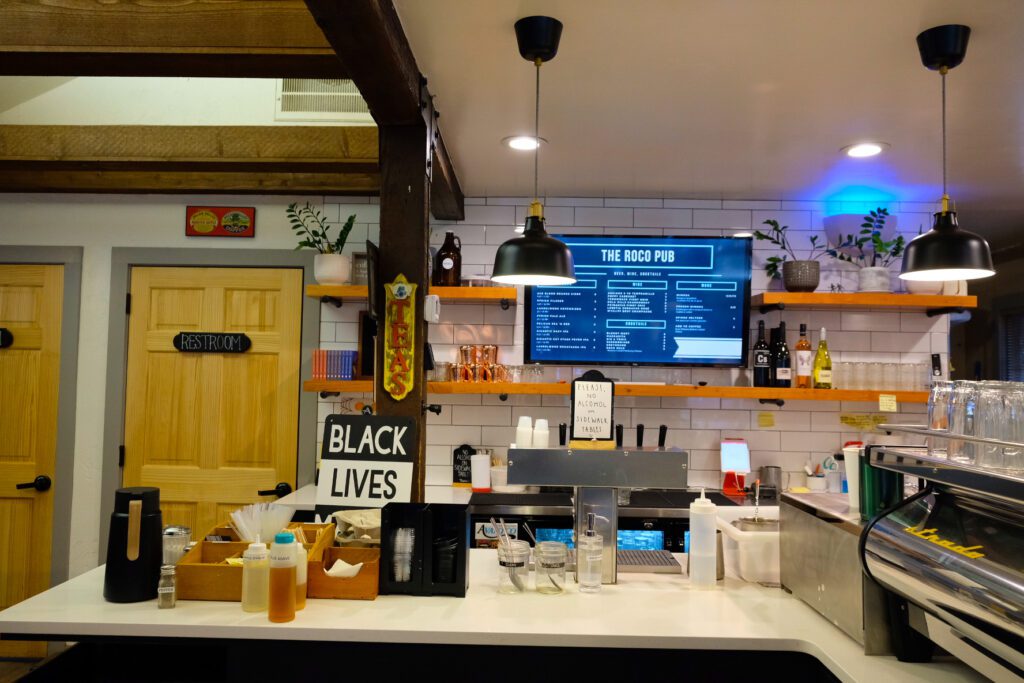 ROGUE VALLEY ROASTING CO.
Rogue Valley Roasting Co. is truly a neighborhood spot. Tucked into a neighborhood, local residents easily walk to get their morning cup o' joe. In addition to great coffee they serve delicious cocktails, wine, and beer on tap as well as my favorite sparkling wine and sherbet! Enjoy your beverages in their large outdoor seating area with fire pit, to go, or even curbside pick up.
MEDFORD
SOLID GROUND COFFEE+ TEA
Solid Ground Coffee and Tea is a cozy downtown spot that offers coffee from Thump, locally roasted in Bend, Oregon. Enjoy their genius seasonal drinks that are always crafted with house made syrups. Drop-in for your to-go drink or spend the day working or chatting with friends in this relaxing spot in downtown Medford.
FORAGE COFFEE COMPANY
Forage Coffee Company has found a home in downtown Medford with their fun and quirky social media presence and hand crafted coffee drinks. They meticulously choose their ingredients putting out unique seasonal specials along with their regular menu that always includes a house made milk alternative. You can also enjoy a small menu of delicious breakfast items. I highly suggest the Pork Belly Sandwich!
MELLELO COFFEE ROASTERS
Mellelo Coffee Roasters is one of the coffee shops that have been around the longest in southern Oregon. Sal Mellelo started it as a six foot coffee cart in downtown Medford in 1992 and now has two locations and sells their beans wholesale as well as to their customers. Try their latte where you can really taste Sal's passion for coffee!
JACKSONVILLE
CERBERUS COFFEE CO.
Cerberus Coffee Co. is the cutest little hole in the wall shop in the quaint town of Jacksonville, where they serve fair trade espresso and coffee, as well as their house made baked goods. Make sure to check out their seasonal menu where they always have something fun and unique to offer!
GOOD BEAN COFFEE
Good Bean has been brewing their coffee since 1990 making them the oldest roasters in southern Oregon! Enjoy coffee and breakfast that includes amazing house made bagels at the Jacksonville or Medford location. You can also pick up their beans at stores all across the Pacific Northwest!
PONY ESPRESSO
Pony Espresso was born in 1995 in Jacksonville and was the first drive-thru coffeehouse in southern Oregon. Enjoy delicious food and coffee in a rustic dining room with an awesome outdoor space that is open year round. You can also enjoy them at their second location in downtown Ashland!
Each of these spots has their own personality and coziness level, with different specialties. If you are a coffee lover you will definitely want to visit each and every one!