Old Soul Pizza is a family owned wood-fired pizza restaurant located in downtown Roseburg that strives to provide a fresh and healthy food product. Enjoy delicious pizza, local wine and a selection of rotating beer and cider on tap all while enjoying art by local artists.
Contact Information
525 SE Main St.
(541)672-3513
Related Destinations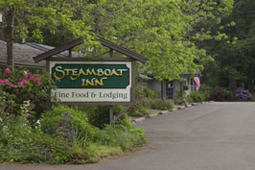 Enjoy breakfast, lunch or dinner at Steamboat Inn. The restaurant serves up Steamboat Traditions as well as daily special that […]
42705 N. Umpqua Hwy
(541)498-2230
Traditional Thai restaurant serving the Roseburg area with a variety of dishes. Their wide menu is sure to have something […]
2521 West Harvard
541-677-8397
Mid Town Grill is a small family run business that strives to make each visit memorable for guests by serving […]
260 Mountain View Ave.
(541)860-7500