The Mott Bridge over the North Umpqua River is located about 40 miles east of Roseburg off of OR-138. The 237-foot structure features a 135-foot three hinged braced spandrel timber arch main span, along with 50-foot approach timber trestles on each approach.
The rustic bridge carries traffic over the North Umpqua River on a 14.5-foot roadway and two 4-foot sidewalks. The bridge links OR-138 to the popular North Umpqua Trail as well as supplies access to the Forest Service and Oregon Department of Transportation maintenance yards on the opposite side to the river.
The timber bridge was built by the Civilian Conservation Corps in 1936, and is the last remaining three hinged timber arch of the three similar structures built in the Pacific Northwest during the Great Depression.
Related Destinations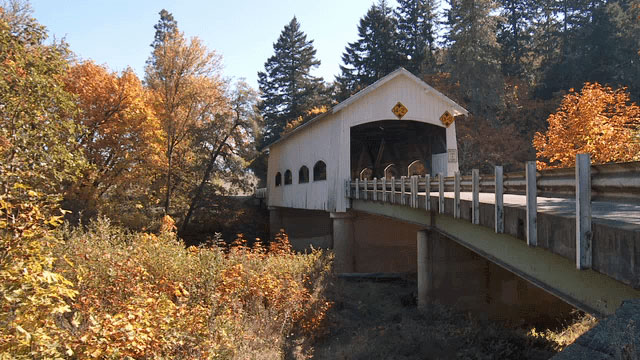 The Rochester Covered Bridge, with its droopy-eyed appearance, sits just three miles northwest of Sutherlin among the farms surrounding the […]
Built in 1943 and spans 70 feet, to cross Little River at its junction with Cavitt Creek. Raw logs make […]
The 61-foot Pass Creek bridge replaced a previous covered bridge built in 1906, and was in service until 1981. In […]
205 W. A Street
800-444-9584