The Oregon Timber Trail is epic – so if you're the type who likes to stretch parameters in search of singular adventures, start with this segment that begins across the border in California. (This ride as mapped is an out-and-back, but it can be the first stage of a Timber Trail odyssey.)
From Tall Town Bike & Camp in Lakeview, drive 15 miles south on Highway 395. Turn left on Pine Creek Canyon Rd. (County Road 2) just past the Welcome to California sign. Follow the signs for Cave Lake up the rough gravel road (a high-clearance vehicle is recommended); at mile 6.3, stay straight for another 1.3 miles to the 4-way intersection. Park on the shoulder and ride north/left on 48N21. Cave Lake and neighboring Lily Lake could both serve as a great spot to spend the night before starting out. Cave Lake campground has vault toilets and potable water.
You'll pedal north from the jump, passing historic ruins of old gold mines early on. The gravel road will successively devolve into a jeep road, then a double-track, and then single-track before you came upon a rusty old sign nailed to a tree welcoming you back to Oregon. The trail undulates up and down but manages to stay right on the ridgeline, with intermittent views off to either side. You may find it difficult to keep your eyes focused ahead, because the panoramic views can be a little distracting. After a bit the forest thins, and alpine grasses take its place. Look for large birds of prey circling on updrafts, and a rich palette of green, red, yellow and purple exploding from the rocky ground anywhere a bit of moisture has seeped to the surface. The few remaining trees are scraggly and windswept; who knows how long they've been clinging to this ancient rock. After a few hours of increasingly beautiful views, you'll climb fairly steeply between miles 6 and 10, gaining nearly 1,000 feet before arriving at Crane Mountain. Welcome to 8,300 feet!
There are remains of an old lookout to check out, and the views abound in every direction. The Warner Range stretches south, far into California; giant Goose Lake and Mount Shasta sit in the distance to the west; Hart Mountain and the Sheldon Antelope Refuge are far in the distance to the east; and the rest of Oregon and the Timber Trail lay to the north.
This is your turnaround point if you're heading back to a vehicle where you started. Take a little time to soak in the views and maybe grab a snack, eventually rising from the flat rocks and pointing your wheels back toward where you came from, looking forward to that 1,000-foot drop… and maybe a refreshing dip in Cave Lake after you finish.
Or, take a deep breath of high-mountain air and keep rolling north.
A quick note: The trail is intermittently rough, rocky and sandy; it may take you longer than you think to cover the 11 miles each way. Make sure you have plenty of liquid with you.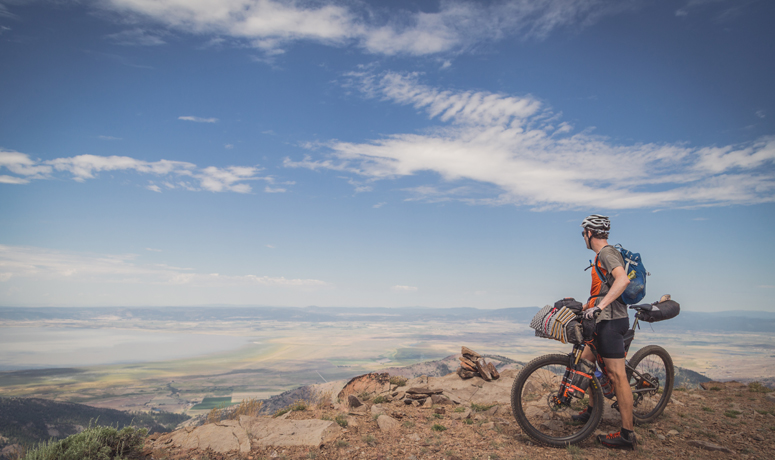 Activities
Bicycling
Bicycling Routes
Mountain Bike Trail
Related Destinations
Provides access to: Fremont National Recreation Trail #160 – Middle Segment a portion of the Fremont National Recreation Trail #160. Located 50 […]
Provides access to: Fremont National Recreation Trail #160 – Southern Segment and the Crane Mountain National Recreation Trail #161. The […]
Vee Lake Trailhead/Campground is a ending point for the southern segment Fremont National Recreation Trail in the North Warner Mountains. […]