Nibbley's Café is open seven days a week for breakfast. Monday through Saturday they're open for breakfast and lunch. Sunday breakfast goes until 2 p.m.
Contact Information
2424 Washburn Way
541-883-2314
Related Destinations
The Upper Deck Restaurant is located at the Crater Lake – Klamath Regional Airport with great views of the airfield. […]
3000 Airport Way, Ste. 200
(541) 882-4277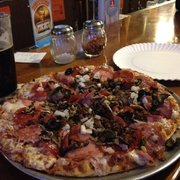 Located in Klamath Falls, Mia and Pia's Pizzeria & Brewhouse is a favorite local hang-out for those craving entertainment, a […]
3545 Summers Ln.
541-884-4880
Family friendly restaurant serving up the authentic Mexican flavor of Nayarit, Mexico.
212 W. Front St.
541-798-9800