The Southern Oregon wines of Troon Vineyard are inspired by the wines of Southern France.
Place names like Madiran, Cahors, Bandol and the Languedoc have provided the varieties which shine in our vineyards high in the Siskiyou Mountains. We practice Biodynamic and organic agriculture and winemaking and our wines are only fermented with their native yeasts without additives. Our varieties are ideal for our climate and soils and include Vermentino, Marsanne, Roussanne, Syrah, Mourvèdre, Tannat and Malbec. Our wines have received over sixty reviews of 90 or more points in just over the last year. Please visit our tasting room to enjoy our wines with our panoramic views of the mountains of Southern Oregon. For those that can't make the trip to Southern Oregon, we also have a Troon Tasting Room in McMinnville in the Willamette Valley just an hour from Portland.

Amenities
Dog friendly
Food for purchase
Bus / RV Parking
Outdoor seating
Bike Friendly
Certified sustainable
Large groups welcome (please call ahead)
Picnics welcome
Tours available
Wheelchair accessible
Related Destinations
Welcome to Trium! Trium comes from Latin for "of three" and was founded by 3 couples with a vision of […]
203 E Main St
(541) 625-9100
Our Vineyard tasting room in Southern Oregon. Come sit among the vines and enjoy our wines!
1015 McDonough Rd
(541) 855-5330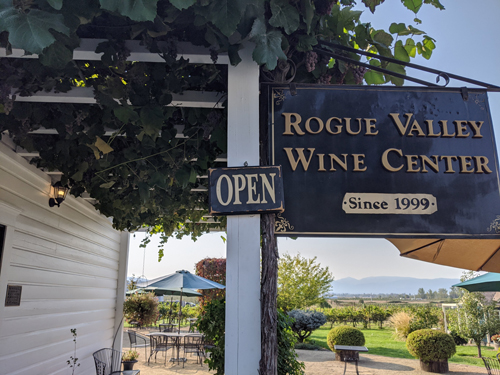 A visit to our beautiful tasting room with formal gardens is well worth the stop. Relax and enjoy a glass […]
2310 Voorhies Rd;
(541) 512-2955