Tucked deep into the southernmost part of the state, you'll find quiet campsites dotting placid lakes or along the cold, clear running waters of a river. They're places where you can breathe in the scent of ponderosa pines, create memories with your family, and experience a fish bending your rod and all the excitement that comes with it. Here are a variety of sites to pitch a tent or park your camper and enjoy your waterfront home away from home.
Lake Selmac (Photo by Rick Swart / ODFW)
1. Record Bass in Lake Selmac
There are bass – and then there are trophy-size, state-record-holding bass. Lake Selmac, located 24 miles southwest of Grants Pass, specializes in the latter, along with plentiful bullhead, trout and bluegill. You'll find them resting near the stumps and overhanging brush. Bring your motorized boat – keeping the speed to 5 mph – or fish from finger-like dikes projecting into the lake. Camp in multiple forested areas that surround the lake, including one for horse camping. The campground has tent and RV sites, plus yurts. Most sites are open in summer only, but Osprey is open year-round.
2. Wild Rogue Birds and Fish at Indian Mary
Let your family spot a steelhead, salmon or trout coming into their net from the refreshing waters of the Wild and Scenic Rogue River. Or they could watch for bald eagles along the banks of Indian Mary Park and enjoy the trees – the maples turn deep yellow in the fall, and cherry trees burst with blossoms in the spring. Named after Mary Peters, an Umpqua Native American who operated a ferry across the river in the 1800s, the park has a quiet but popular campground only a 15-mile drive from Grants Pass. Tents and RV sites. Umpqua Joe and Rogue D loops are open year-round; others are summer only.
Upper Rogue River (Photo courtesy of USFS)
3. Storied Fishing Ground at Rogue Elk Park
Being just a short drive from Medford, with prime waterfront sites that hug the Upper Rogue River, 33-acre Rogue Elk Park is a favorite among locals. Here, a storied Oregon waterway flows directly past craggy cliffs as it makes its way to the Pacific Ocean. Hard-fighting steelhead and salmon swim freely, taking your streamer or lure if it's presented just right. When the temperatures rise, your family may feel inclined to join them nearby in slow-moving Elk Creek. Fishing is best from a boat, but there is bank access as well. There's a $4 boat launch fee, or free if you're staying in the park. Tents and RVs are allowed, but no sewer/dump station. Open mid-March through late October.
4. Quiet Umpqua Angling at Tyee
The Umpqua River begins high in the Cascade Mountains and is one of only two Oregon rivers that meander from there down to the Pacific Ocean. Along its journey, it passes a quiet campground set deep in a forested canyon. The Tyee Campground is perched on the banks of pristine waters where chinook and coho salmon, steelhead, and bass are waiting to be hooked. It's the kind of place where you're more likely to hear your squirrel and woodpecker neighbors than those of the camper variety. Campsites in its two areas are open year-round but are reservation-only, so plan accordingly. Tents and RVs are allowed, but no hookups or sewer/dump station.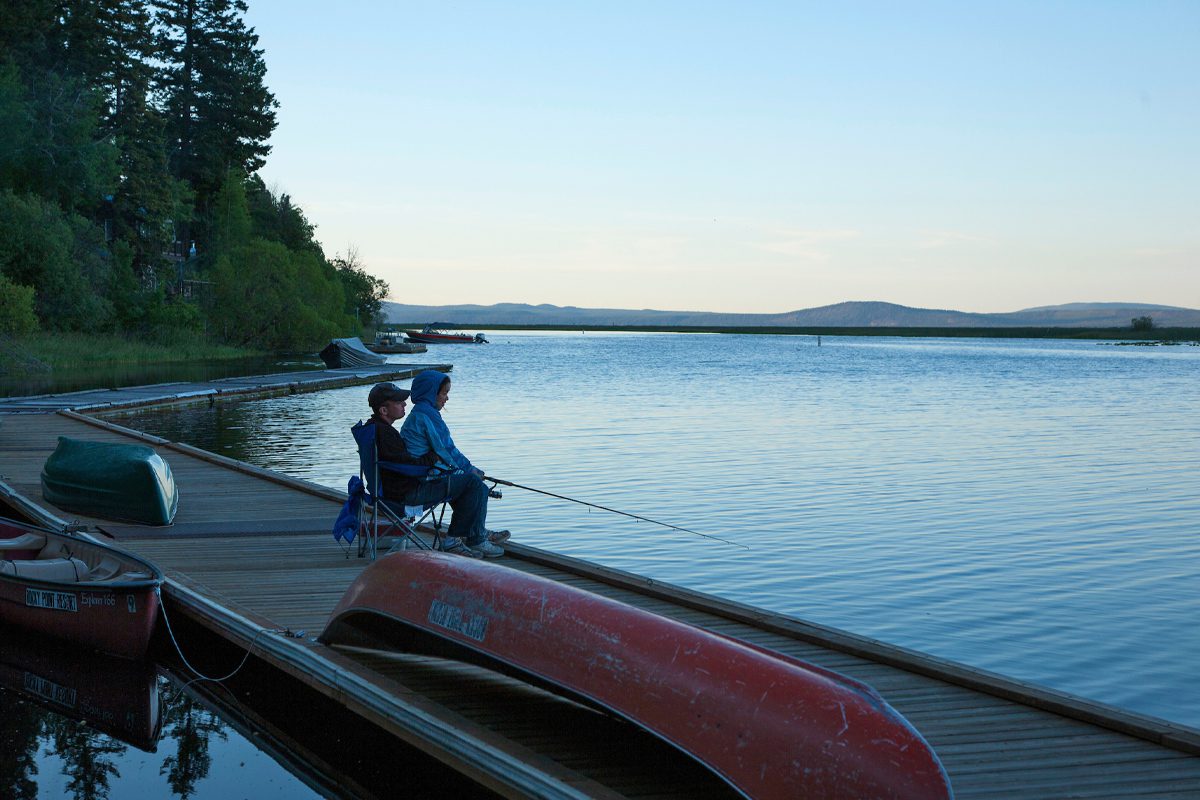 Rocky Point Resort (Photo by Robbie McClaran)
5. Trout Heaven at Rocky Point
Located 30 minutes from Klamath Falls in the undisturbed wilderness of Upper Klamath National Wildlife Refuge, Rocky Point Resort offers plenty of ways to relax on a lakeside property. Healthy populations of large brown, brook and rainbow trout are sure to get your heart racing in the cold waters of Upper Klamath Lake, or just enjoy a quiet paddle after renting one of the resort's canoes or kayaks before refueling at the resort's restaurant. Keep your eyes open for nearly 250 species of birds, including mallards, snow geese and bald eagles. Tent, RV, and rustic cabin sites are available, as are hotel rooms and a furnished RV. Camping is open April 1 to November 1.
6. Bull Trout at Serene Marster Spring
For those who only need a private, rustic site along a quiet river filled with fish, there's the Marster Spring Campground. Located 20 miles south of Paisley, this peaceful retreat with 10 widely spaced sites sits on the banks of the Chewaucan River, amid a landscape filled with sagebrush, alder, juniper and ponderosa pines. With consistent water levels, it's the perfect habitat for bull trout (catch and release). Please remember that this year-round campground is a "pack it in, pack it out" area. Tents and small RVs are allowed, though there are no hookups or sewer/dump station.
If You Go:
Remember to purchase a fishing license before you go, and check for regulations, stocking schedules, fishing tips and even trip ideas at MyODFW. Many campsites can be crowded in the summer, so consider a trip in fall or spring for the fewest crowds. Always remember to wear a life preserver when boating, and check on boating regulations before heading out.
Story by Guy Ragnetti